Animals
A to Z Index of Animals - A-Z Animals - Animal Facts, Information, Pictures,... - StumbleUpon. Animal did you knows - StumbleUpon. Dogs | Animal Pictures | Cutest Paw - StumbleUpon. Dog of the Day - Every day a new dog photo and story. Cutest Paw Gives You the Cutest Animal Pictures Around the World - StumbleUpon. Top 20 Sweetest Loving Animals | Wild Domestic Animals Look Stories and Photos - StumbleUpon. Posted 7 months ago / Views: 26,315 It's really cute to see others being in love, but it's more than amazing to see these animals loving and caring each other so much.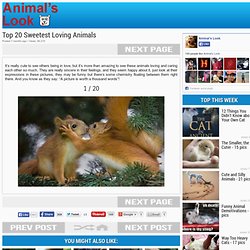 They are really sincere in their feelings, and they seem happy about it, just look at their expressions in these pictures, they may be funny but there's some chemistry floating between them right there. And you know as they say: "A picture is worth a thousand words"! Louie | Kevin & Amanda - StumbleUpon. Meet Louie!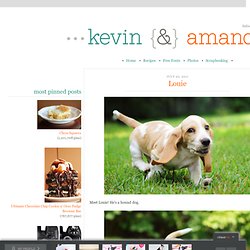 He's a hound dog. Louie is Miley and Howie's new cousin. This sweet little fella belongs to Kevin's brother. We got to meet him last weekend and I fell in love. Friends | PBH2, Video Before It's Viral - StumbleUpon. Things that make you go aahh. Whatever happens, don't say Awwww (The CHIVE) & S A V O I A - StumbleUpon. Be Warned! This Gallery Is Not For Those Who Can't Handle A Monstrous... - StumbleUpon.
Golden Retriever Puppies 7 days old. Puppies, Cute Puppy Names, Pictures of Puppies &More | Daily Puppy - StumbleUpon. Humorous, Funny and Cute Animal Photos: Humor Page: Archive. 10 Reasons Why My Dog Is My Valentine | PETA.org - StumbleUpon. The following article was written by Keegan Baur.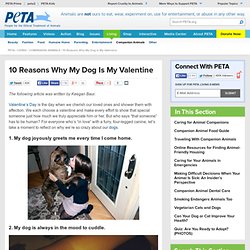 Valentine's Day is the day when we cherish our loved ones and shower them with affection. We each choose a valentine and make every effort to show that special someone just how much we truly appreciate him or her. Mom they called me husky. Puppy98037639b.jpg from foreignpolicy.com - StumbleUpon. Wildlife Sanctuary Teaches Baby Sloths How to Potty.
Potty training at the sloth orphanage from Amphibian Avenger on Vimeo.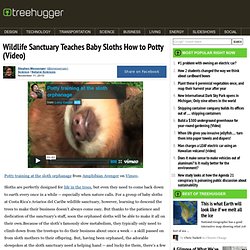 Sloths are perfectly designed for life in the trees, but even they need to come back down to earth every once in a while -- especially when nature calls. For a group of baby sloths at Costa Rica's Aviarios del Caribe wildlife sanctuary, however, learning to descend the trees to make their business doesn't always come easy. But thanks to the patience and dedication of the sanctuary's staff, soon the orphaned sloths will be able to make it all on their own.Because of the sloth's famously slow metabolism, they typically only need to climb down from the treetops to do their business about once a week -- a skill passed on from sloth mothers to their offspring.
But, having been orphaned, the adorable slowpokes at the sloth sanctuary need a helping hand -- and lucky for them, there's a few kindhearted humans willing to accept the less-than-glamorous job.
---