Photography
Top photographs got massive visitors and impressions. After a long time i have found this interesting idea for readers and lovers of pokkisam blog.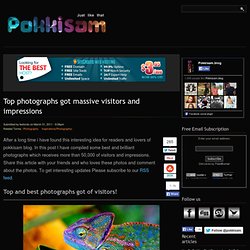 In this post I have compiled some best and brilliant photographs which receives more than 50,000 of visitors and impressions. Share this article with your friends and who loves these photos and comment about the photos. To get interesting updates Please subscribe to our RSS feed. Please comment about the photographs and share this article... About the author. Swick » 12 Of The Most Iconic Photographs Ever Taken.
Timothy H.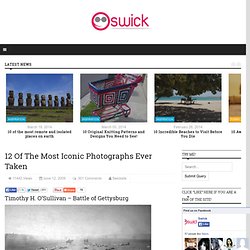 O'Sullivan – Battle of Gettysburg This photograph has become synonymous with The Battle of Gettysburg, which was the most bloody battle of the American Civil War. Photographer Timothy H. O'Sullivan documented and recorded the battlefield, and this picture became a sensation. ALIENS ON EARTH – amazing photographs of insects,spiders and weirdest animals : aforadio.com | Aforadio.com. A praying mantis appears to dance or adopt a kung-fu pose in this picture captured by Igor Siwanowicz at his home studio in Munich, Germany.
Picture: IGOR SIWANOWICZ / BARCROFT MEDIA Igor Siwanowicz has spent the last seven years carefully acquiring, breeding and photographing his subjects such as these stag beetles fighting. "I have always been fascinated by insects even from childhood," explained the 34-year-old Polish national. 30 Astoundingly Clear Landscape Photography by Xavier Jamonet.
---