R
Shiny - Gallery. Welcome · Advanced R. Graphical Parameters. You can customize many features of your graphs (fonts, colors, axes, titles) through graphic options.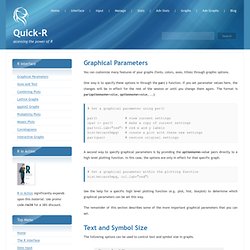 One way is to specify these options in through the par( ) function. If you set parameter values here, the changes will be in effect for the rest of the session or until you change them again. The format is par(optionname=value, optionname=value, ...) # Set a graphical parameter using par() par() # view current settings opar <- par() # make a copy of current settings par(col.lab="red") # red x and y labels hist(mtcars$mpg) # create a plot with these new settings par(opar) # restore original settings. R Graph Gallery :: Home. Multiple Regression. R provides comprehensive support for multiple linear regression.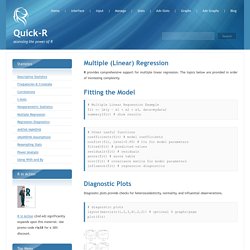 The topics below are provided in order of increasing complexity. Fitting the Model # Multiple Linear Regression Example fit <- lm(y ~ x1 + x2 + x3, data=mydata) summary(fit) # show results # Other useful functions coefficients(fit) # model coefficients confint(fit, level=0.95) # CIs for model parameters fitted(fit) # predicted values residuals(fit) # residuals anova(fit) # anova table vcov(fit) # covariance matrix for model parameters influence(fit) # regression diagnostics Diagnostic Plots. Cran.r-project.org/web/packages/date/date.pdf. Inside-R | A Community Site for R | A Community Site for R – Sponsored by Revolution Analytics. Revolution R. The Workspace. The workspace is your current R working environment and includes any user-defined objects (vectors, matrices, data frames, lists, functions).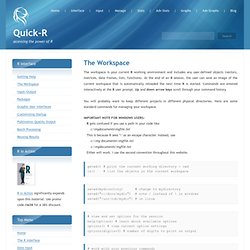 At the end of an R session, the user can save an image of the current workspace that is automatically reloaded the next time R is started. Commands are entered interactively at the R user prompt. Up and down arrow keys scroll through your command history. You will probably want to keep different projects in different physical directories. Here are some standard commands for managing your workspace. An Introduction to R. Table of Contents This is an introduction to R ("GNU S"), a language and environment for statistical computing and graphics.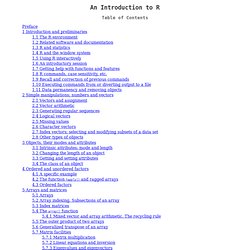 R is similar to the award-winning1 S system, which was developed at Bell Laboratories by John Chambers et al. It provides a wide variety of statistical and graphical techniques (linear and nonlinear modelling, statistical tests, time series analysis, classification, clustering, ...). This manual provides information on data types, programming elements, statistical modelling and graphics. Home Page. Getting Started in R.
---