Interfaces Tangibles: l'après-multitouch ?
Current Projects | Fluid Interfaces
Media Lab - Tangible Media Group
Audiopad
Audiopad is a composition and performance instrument for electronic music which tracks the positions of objects on a tabletop surface and converts their motion into music.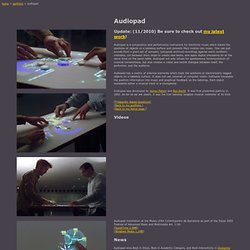 Bridging the Gap Between Virtual and Physical Controls on Tabletops Press and Talks 2010 Oct 1: Campushunter.de features SLAP in an article as a trending topic in computer science Sep 8: Transmaterial 3 features an article about SLAP (Transmaterial 3, p. 239). 2009 Jun 8: iX online article about multi touch tables features a paragraph about SLAP.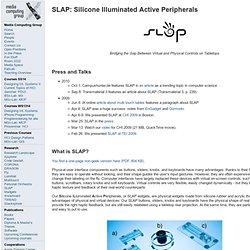 The Media Computing Group : SLAP: Silicone Illuminated Active Peripherals
Workshop Interfaces tangibles et Multitouch sous PureData
Date de publication Affichages : 3775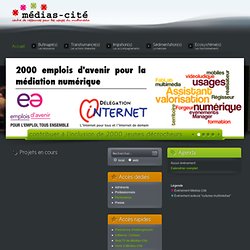 Reactable for Dummies on Vimeo
La notion d'interface s'entend plus précisément dans le cadre d'un accès aux FONCTIONS, aux ressources et aux contenus.
interfaces.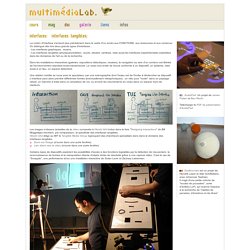 A tangible user interface (TUI) is a user interface in which a person interacts with digital information through the physical environment. The initial name was Graspable User Interface, which is no longer used.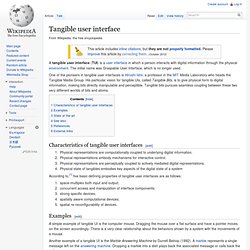 Tangible user interface: une définition par Wikipedia
d-touch.org home page
Université Pompeu Fabra, Barcelone
Université Pompeu Fabra de Barcelone : maison originelle de la Reactable. Interface "tangible" permettant une création sonore en temps réel grâce à une prise en main intuitive et ouverte à tout public. by gilead Oct 9
reacTIVision 1.3 et la Reactable
Captation d'objets tangibles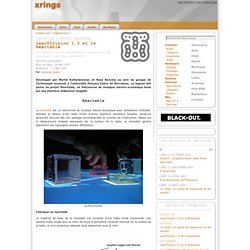 Explications en français sur le concept d'Objets Tangibles. by gilead Oct 9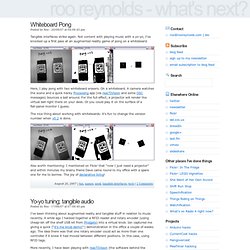 Reactable chez Roo Reynolds
Whiteboard Pong Posted by Roo - 20/08/07 at 04:08:45 pm Tangible interfaces strike again.
Autre expérience de Reactable faite maison par Roo Reynolds by gilead Oct 9
Carles López Reactable live in Barcelona
Reactable performance by Carles López at Apolo [2] (Nitsa Club) in Barcelona. July 11, 2009 by gilead Oct 11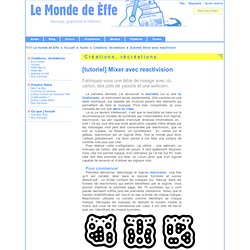 Le monde de Èffe
[tutoriel] Mixer avec reactivision Fabriquez-vous une table de mixage avec du carton, des pots de yaourts et une webcam.
Autre Reactable maison construite par Effe by gilead Oct 11
Reactable
reacTIVision
Reactivision : logiciel OSC permettant l'interface entre une Reactable et les logiciels de traitement sonore by gilead Oct 11
Une réact table pour 10€. non.. pas tout à fait... Bon, en moins beau que l'original, en plus cheap, sans feed-back vidéo, mais ça marche, c'est en do it yourself et ça permet de faire de la musique / du bruit. Remarque : sur la vidéo, le son est completement désynchro de l'image, mais c'est une vieille démo donc tant pis.
ReactCheapTable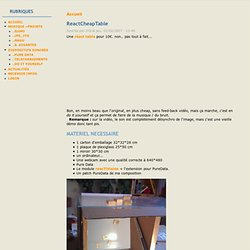 Reactable-maison construite par Jean-Yves Gratius et fonctionnant avec PureData by gilead Oct 11