Artistes
GNG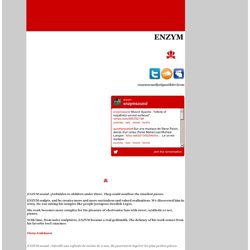 enzymsound[at]gmail[dot]com
enzym + sound = enzymsound
A Guy Called Gerald
Air
The Aleph
ouaip ! il se passe de plutôt bonnes choses du côté d'Austin, Texas... :-) by gilead Feb 18
sont pas mal eux !!! Je les connaissais pas du tout :-) by PED Oct 13
Amon Tobin
Arling & Cameron
Arovane
Autechre
Bizz Circuits
Boards of Canada
électronica glitch, scritch et relaxante by gilead Oct 11
Bovine Life aka Chris Dooks
Brian Eno
There are plenty of interesting connections between Berlin-based Frank Bretschneider and the Dane Ejnar Kanding.
Frank Bretschneider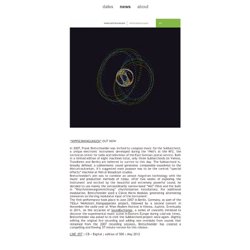 Burial
Dj Cam
Coldcut
MJ Cole
Colleen
Cornelius
C2C
Mathias Delplanque's
Digitonal
Andrew Duke
Dollboy
Accelera Deck
Einóma
The Electric Bird
Ellen Allien
E-Z Rollers
Esa Ruoho / Lackluster
You might find it more useful to link to http://lackluster.org instead ;) by esaruoho Dec 1
Christian Fennesz
Fällt
Fujiya & Miyagi
The Future Sound Of London
Gift Culture
Hypo aka Anthony Keyeux
The Herbaliser
Jungle Brothers
Kid Loco
The Konki Duet
LCD Soundsystem
M83
Mira Calix
monolake | Robert Henke
tout sur l'artiste, ingénieur du son, un des pères de "Live", de "MaxForLive" et de l'incontournable "MonoDeck" by gilead Feb 18
Murcof
Anton Nikkilä
Anton Nikkilä (born 1965) is an experimental musician and composer who lives and works in Helsinki.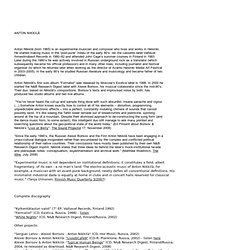 Omni Trio
The Orb
Orbital
Ova Looven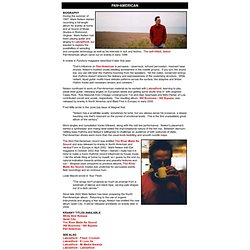 During the summer of 1997, Mark Nelson started recording a full length album for kranky at home and at Sound of Music Studios in Richmond, Virginia. Mark Nelson had been playing guitar and singing in Labradford , but wanted to explore the possibilities of sampling and computer technology as well as his interests in dub and techno.
Pan American
"P5 mastermind Yasuharu Konishi filches snippets spanning the decades and crossing various genres, from Serge Gainsbourg to Lena Horne to Saint Etienne. Throw in sultry vocalist Maki and it adds up to a shower of oh-so-groovy trances and uptempo beats — an electronic vaudeville show that's magically delicious."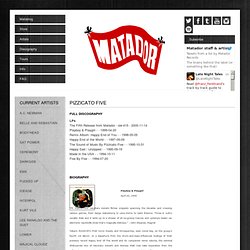 Pizzicato Five
Ghislain Poirier
Photek
Pintail
Plaid
Plug aka Luke Vibert
Luke Vibert, aussi connu sous le pseudo "Plug" sur l'album "Drum'N'Bass For Papa" by gilead Oct 11
Populous
Rechenzentrum
RJD2
Roudoudou
Scanner aka Robin Rimbaud
Seelenluft
Janek Schaefer
Ulrich Schnauss
DJ Shadow
si-cut.db aka Douglas Benford
Sofa Surfers
Soldout
Découvert aux Vieilles Charrues, avec notamment l'excellent "I don't Want To Have Sex With You" by gilead Oct 11
Spaceheads
Squarepusher
Mikael Stavostrand
Strings of Consciousness
collectif de musiciens rassemblés autour de Philippe Petit, dirigeant du label marseillais Bip-Hop (et fondateur de l'ancien Pandemonium Records) by gilead Oct 11
Yoshinori Sunahara
Swayzak
Thievery Corporation
Tujiko Noriko sur MySpace Music - Ecoute gratuite de MP3, Photos
US3
Underworld
We
WhoMadeWho
Jah Wobble
Woob aka Journeyman aka Paul Frankland