Text analysis and representation
Media The BBC is leading the way towards more flexible and intelligent web publishing through Dynamic Semantic Publishing (DSP). The DSP architectural approach now underpins the recently re-launched and refreshed BBC Sports site as well as the BBC's Olympics 2012 online content. BBC Future Media department is using GATE alongside other technologies to realise this approach. The system achieves cost savings of ~80% compared to a conventional database-backed web system.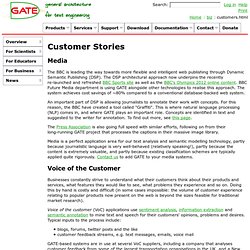 biz/customers
Welcome to the Apache UIMA™ project. Our goal is to support a thriving community of users and developers of UIMA frameworks, tools, and annotators, facilitating the analysis of unstructured content such as text, audio and video. Unstructured Information Management applications are software systems that analyze large volumes of unstructured information in order to discover knowledge that is relevant to an end user. An example UIM application might ingest plain text and identify entities, such as persons, places, organizations; or relations, such as works-for or located-at.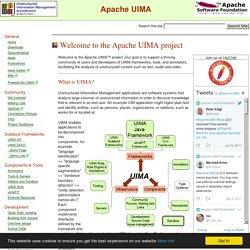 DBpedia ( from "DB" for "database" ) is a project aiming to extract structured content from the information created as part of the Wikipedia project. This structured information is then made available on the World Wide Web.[1] DBpedia allows users to query relationships and properties associated with Wikipedia resources, including links to other related datasets.[2] DBpedia has been described by Tim Berners-Lee as one of the more famous parts of the decentralized Linked Data effort.[3] Background[edit] The project was started by people at the Free University of Berlin and the University of Leipzig, in collaboration with OpenLink Software,[4] and the first publicly available dataset was published in 2007.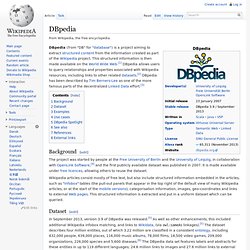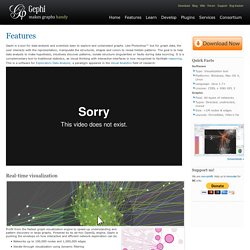 Gephi is a tool for people that have to explore and understand graphs. Like Photoshop but for data, the user interacts with the representation, manipulate the structures, shapes and colors to reveal hidden properties. The goal is to help data analysts to make hypothesis, intuitively discover patterns, isolate structure singularities or faults during data sourcing. It is a complementary tool to traditional statistics, as visual thinking with interactive interfaces is now recognized to facilitate reasoning. This is a software for Exploratory Data Analysis, a paradigm appeared in the Visual Analytics field of research. Real-time visualization