Bargains
Solar panels can mean big bucks. They reduce your electricity bill and pay you for generating power. Yet the 'feed-in tariff' you get for generating electricity will be cut from 1 April, so act now if you want them. This guide takes you through whether solar panels are right for you, how to get current payments before the drop, if free panels are worth it and how to get them fitted safely. We've made every effort to ensure this guide's accuracy, yet it doesn't constitute legal advice tailored to your individual circumstances.
Free solar panels worth £12,000: Save £120/year on your electricity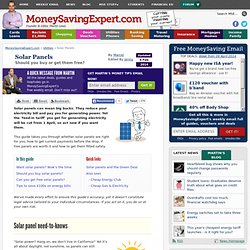 Unieuro: la grande catena di elettronica di consumo Italiana.
Crafts and Art Supplies Superstore by Homecrafts direct
Scoot | Scoot Home - UK Business Finder
MISI - Buy and Sell Handmade Gifts | Handmade Jewellery | Handmade Wedding Gifts | Christmas Gifts