Mvc
Simple, elegant and easy for people used to Django but in PHP5 so easy to deploy all over the world. In 2005, someone asked me in urgence to help him in building a webapplication to manage a conference. At that time, I was using Django (and I am still using it) but it was clear that setting up Django was not possible for technical and human reasons. That is why, I started Pluf to be able to code a webapp with ease but in PHP. The framework is a Model, Template, View framework and you have a full control over the look and feel of the URLs (they can end with a slash, .html, .pluf, etc.). The ORM allows you to easily create, update and delete things in your database but also query the database.
Pluf : Pluf, PHP WebApp Framework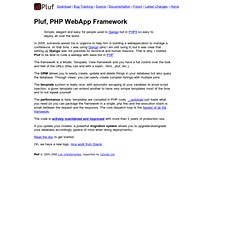 Home - Agavi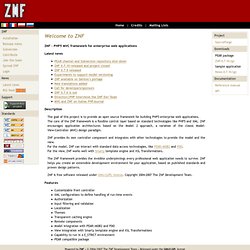 ZNF - PHP5 MVC framework for enterprise web applications Latest news Description The goal of this project is to provide an open source framework for building PHP5 enterprise web applications. The core of the ZNF framework is a flexible control layer based on standard technologies like PHP5 and XML. ZNF encourages application architectures based on the Model 2 approach, a variation of the classic Model-View-Controller (MVC) design paradigm.
ZNF - PHP5 MVC framework for enterprise web applications
Page principale — Hoa Framework
As you may know, for the last 5 years or so, the PureMVC project has been hosted in SVN repositories and documented by Trac wikis, all hosted gratis by CVSDude, which then became Codesion, which has now become CloudForge. The project has gone through growth spurts from ports to various languages, and a great many contributors have worked hard to provide ports, utilities, and demos. However there has always been a giant bottleneck, and that's me. Because the setup and security of the repositories and wikis via the Codesion interface has always been cumbersome, I have managed the creation of the wikis and the initial checkin of projects. The overhead associated with that (as well as verifying the project contents) has always been at least a half-day of effort, sometimes more than a day's worth.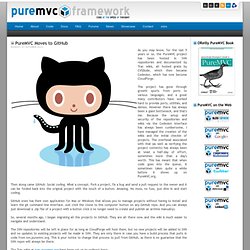 v1 Legacy Akelos v1 repository Updated editam Editam CMS as an Akelos plugin. Required admin plugin.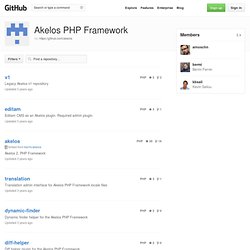 Web Application Component Toolkit [Web Application Component Toolkit]
[[Web Application Component Toolkit]] Web Application Component Toolkit You are here: Web Application Component Toolkit Table of Contents Web Application Component Toolkit