Asia
Dapatkah ekonomi Indonesia keluar dari keadaan investasi yang tak menentu? Ini adalah salah satu pertanyaan yang diajukan dalam laporan Perkembangan Triwulanan Perekonomian Indonesia dari Bank Dunia edisi bulan Maret 2014. Mengapa pertumbuhan investasi Indonesia tak menentu? Pertama, terdapat perlambatan dalam investasi tetap, karena turunnya kondisi perdagangan dan lebih ketatnya kondisi pembiayaan luar negeri. Kedua, sementara investasi asing langsung (FDI)—sumber pembiayaan investasi yang penting—masih tetap kuat sejauh ini, laju pertumbuhan aliran masuk FDI yang tercatat pada beberapa tahun terakhir menunjukkan tanda-tanda mendatar. Ketiga, Indonesia tetap bergantung kepada pembiayaan luar negeri dari aliran masuk modal investasi portofolio.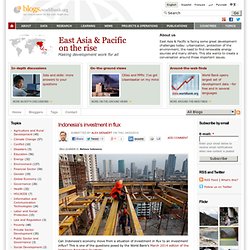 East Asia & Pacific on the rise
Business in Asia
Offices in Asia and on the Ground Support > Site Selection > Factory Start-up > Starting and Operating a Factory in Asia > Company Registration > Open offices > Licenses > Manufacturing and Sourcing Products > Business Information Collection > Visit Facilitation > Feasibility Analysis > Costs Comparison > Product Information Research > Recommendations on Options for Sales > Due Diligence > Merger and Acquisition > Organize seminars and events overseas > Information and Asset Protection >Legal Consultation > Trip Assisting for Executive MBA Programs and business groups > More..