GRAPHIC
Adobe Photoshop is the premier tool for digital artists when it comes to professionally enhancing images. Whether you're a beginner just learning the ropes or an advanced user looking for unique techniques to add to your Photoshop arsenal, you'll find some tutorials here that you'll surely want to bookmark. In this article, you'll discover plenty of tutorials that deal with enhancing images, adding unique and impressive effects, and recreating digital replications of popular traditional photography techniques. 1.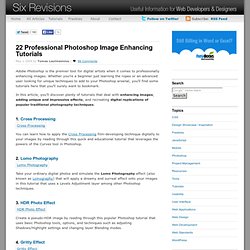 Free Software from Serif
Learn how to take your best ever photos Photography for Beginners is a magazine all about helping you take your best ever shots, with need-to-know shooting and editing advice. We've been trying out Serif's PhotoStack software to help us enhance our landscape photos and in this tutorial we show you how to shoot great scenes and make the most of your photos using this software. Shooting landscapes is one of the most popular genres of photography. This is probably because it is so accessible, as you don't have to travel far to find a stunning vista. Taking a great landscape photo is easy, and there is also plenty of potential for making it look even better using editing software.