CLOTHES & ACCESSORIES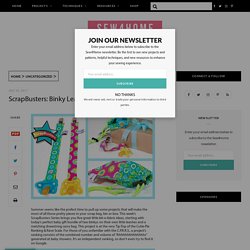 This baby gift bundle of two binkys on their own little leashes and a matching drawstring carry bag is at the very Tip-Top of the Cutie-Pie Ranking & Rave Scale. For those of you unfamiliar with the C.P.R.R.S., a project's ranking consists of the combined number and volume of "Ahhhhhhhhhhhhhs" generated at baby showers. It's an independent ranking, so don't even try to find it on Google. Our thanks to our pals at Michael Miller Fabrics for providing us with this absolutely wonderful fabric for our series of seven Baby Gift projects.
It's Halloween season and costume shops have popped up in all sorts of unusual places. We have one in a store front that previously housed a carpet and linoleum company. Everything smells like glue.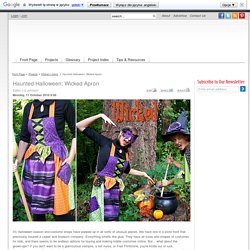 Haunted Halloween: Wicked Apron - Sew4Home
October 25, 2009 7:56 am J. Crew- You're killing me. I can't keep up with all your fun shirts. I fell in love with this shirt from J. Crew.
J. Crew Ribbon Neckline Refashion Tutorial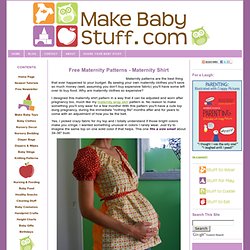 Maternity patterns are the best thing that ever happened to your budget. By sewing your own maternity clothes you'll save so much money (well, assuming you don't buy expensive fabric) you'll have some left over to buy food. Why are maternity clothes so expensive?
Free Maternity Patterns: Maternity Shirt Pattern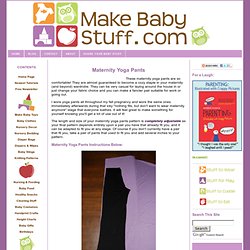 These maternity yoga pants are so comfortable! They are almost guaranteed to become a cozy staple in your maternity (and beyond) wardrobe. They can be very casual for laying around the house in or just change your fabric choice and you can make a fancier pair suitable for work or going out. I wore yoga pants all throughout my fall pregnancy and wore the same ones immediately afterwards during that icky "nothing fits, but don't want to wear maternity anymore" stage that everyone loathes. It will feel great to make something for yourself knowing you'll get a lot of use out of it!
Free Maternity Yoga Pants Pattern
Big Ugly Shirt Refashioned into Maternity!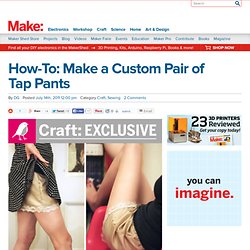 By Haley Pierson-Cox For me, summer in NYC means two things: 1) I will eventually wear a light skirt into the subway when my hands are full, and 2) on that day, when I step onto the stairs of the station, a gust of wind will come barreling up from below, lifting my skirt and showing my backside to anyone who cares to look. This year, on the very first nice day, my skirt flew up not once, but twice. In the same commute. Grumbling and scrambling to pull it down, it hit me: I definitely needed a pair of tap pants. In case you're not familiar, tap pants work like a slip, but they're actually shorts, making them the perfect solution to my summer skirt woes.
Finally–the long-awaited beltmaking tutorial! way I make my fabric-covered belts has been learned from a mix of trial-and-error and vintage manuals. The supplies are simple, and making a simple pass-through belt is quite easy. I have, however, included instructions for how to add a pronged buckle to a belt and add eyelets. I hope you enjoy, and as usual feel free to ask any questions in the comments!