Educators
Children's audiobooks. Activities for ESL/EFL Students (English Study) Internet TESL Journal (For ESL/EFL Teachers) ESL Teacher Resources. Summary: The professional resources listed below are both theoretical and practical.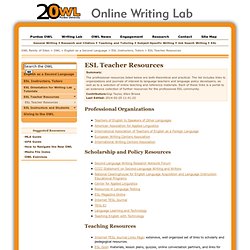 The list includes links to organizations and journals of interest to language teachers and language policy developers, as well as to a selection of online teaching and reference materials. Each of these links is a portal to an extensive collection of further resources for the professional ESL community. Contributors:Gigi Taylor, Allen BrizeeLast Edited: 2014-02-25 11:41:22. ArmoredPenguin.com - Create puzzles and other diversions. Free ESL Worksheets, English Teaching Materials, ESL Lesson Plans. WAYGOOK.ORG - Index. EFL/ESL Lessons and Lesson Plans from The Internet TESL Journal.
If you have a lesson that you are willing to contribute, please submit it.See the main page for this month's lessons plans.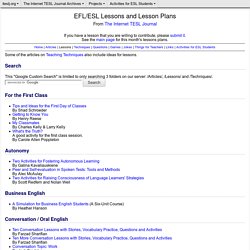 Home | Articles | Lessons | Techniques | Questions | Games | Jokes | Things for Teachers | Links | Activities for ESL Students Some of the articles on Teaching Techniques also include ideas for lessons. Search.
---