Marketing
- StumbleUpon. Words of Wisdom: 101 Tips from the World's Most Famous Authors » Online College Search. If you've ever wanted to sit down with your favorite writer and ask advice, then you should take a look at these tips from some of the most famous authors in the world.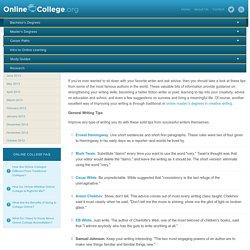 These valuable bits of information provide guidance on strengthening your writing skills, becoming a better fiction writer or poet, learning to tap into your creativity, advice on education and school, and even a few suggestions on success and living a meaningful life. Of course, another excellent way of improving your writing is through traditional or online master's degrees in creative writing. General Writing Tips. BlaBlaMeter - Bullshit detection tool. Table of Contents. Kred Story. Internet Marketing Tools | Internet Marketing Resources.
Business Signs | Signs For a Business at SpeedySignsUSA.com. 1021575_businessman_silhouette.jpg (JPEG Image, 255x300 pixels) Design Skills | The Psychology and Perceptions of Forms and Shapes. Man Silhouette Sitting Clip Art. Mental_floss Blog & Gifts for the Geek Home - StumbleUpon. A home should be an expression of who you are.
Sure, when you're young and broke, your room or apartment might be an expression of who your parents or the people who donate to Goodwill are, but gradually you collect items that express your personality, whether you receive them as gifts or purchase them yourself. If you are a technologically oriented geek, there are plenty of manufacturers and vendors catering to your tastes in home decor. Interactive LED Dining Table. 50 Social Sites That Every Business Needs a Presence on.
---