UDL
- Eight ways to create screencasts and slideshares. 0 Comments April 11, 2012 By: Joyce Valenza Apr 11.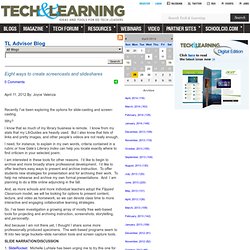 InstaGrok | A new way to learn. Top Ten Things I Wish I Had Known When I Started Teaching. Current Collection of Tips The following tips are from the series Empowering the Beginning Teacher in Mathematics, by Cynthia Thomas. 10.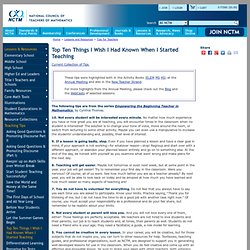 Home. Maryland Learning Links. Today's diverse classrooms are comprised of students with a wide range of abilities, learning preferences and interests.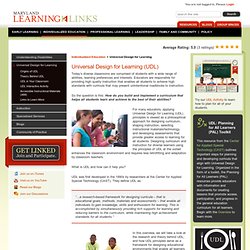 Educators are responsible for providing high quality instruction that enables all students to achieve high standards with curricula that may present unintentional roadblocks to instruction. So the question is this: How do you build and implement a curriculum that helps all students learn and achieve to the best of their abilities?
For many educators, applying Universal Design for Learning (UDL) principles is viewed as a philosophical approach for designing curriculum, shaping instruction, selecting instructional materials/technology, and developing assessments that provide greater access to learning for all students. Designing curriculum and instruction for diverse learners using the principles of UDL at the outset enhances the classroom environment and requires less retrofitting and adaptation by classroom teachers. What is UDL and how can it help you? Universal Design for Learning in HCPSS. Universal Design for Learning. Universal Design in Learning (UDL) "Universal Design for Learning (UDL) is a framework for designing curricula that enable all individuals to gain knowledge, skills, and enthusiasm for learning.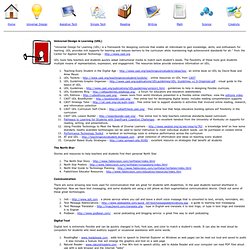 UDL provides rich supports for learning and reduces barriers to the curriculum while maintaining high achievement standards for all. " from the Center for Applied Special Technology - UDL tools help teachers and students quickly adapt instructional media to match each student's needs. The flexibility of these tools give students multiple means of representation, expression, and engagement. The resources below provide extensive information on UDL. BC UDL Project Wiki / Scaffolding Student Access to Printed and Digital Text. Provide Both Scaffolding and Continued Reading Instruction Printed text is a curriculum barrier for many students.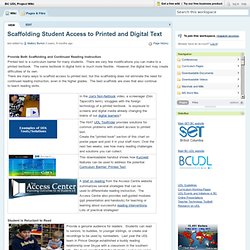 There are very few modifications you can make to a printed textbook. The same textbook in digital form is much more flexible. However, the digital text may create difficulties of its own. There are many ways to scaffold access to printed text, but this scaffolding does not eliminate the need for continued reading instruction, even in the higher grades. What Is UDL? What is Universal Design for Learning?
Traditional curricula are 'one-size-fits-all,' and neglect the needs of a diverse student population. Universal Design for Learning (UDL) is a proactive approach that uses instructional strategies while taking advantage of flexible technologies (through learning materials) to support diverse learning needs. Sigms - UDL&ATWebinar.
---