Knitting
The Wool Goes 'Round. Twenty eleven.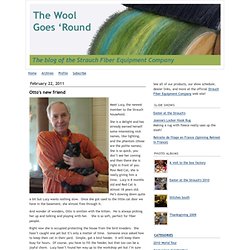 Sounds so si-fi doesn't it. To all the younger folks this is just how it is. Your guide to toe-up knit socks patterns online. For my lovely friend Kate – who recently knit me a pair of delicious ankle socks and who is sock addicted – here is a selection of toe-up sock patterns to test out.
Short Row Toe Up Socks by Angela Perry [see image above] Toe up sock on two circular needles by Kristin Bellehumeur – good photo tutorial Lifestyle Toe Up Socks – No Swatch Needed by Charisa Martin Cairn – A no-swatch sock making guide with a great formula for toe-up socks Regular Guy Toe Up Socks by Chuck Wright from ravelry Toe-Up Socks With a Difference by Wendy D. Johnson (download from rav) International Yarns and Latch Hook Kits. Learn to Knit Toe-Up Socks. In this pattern you will see links to four instructional videos that will explain each section in detail, and help get you through the tricky parts.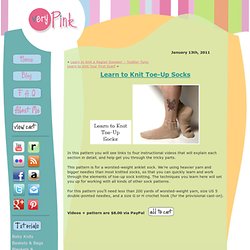 This pattern is for a worsted-weight anklet sock. We're using heavier yarn and bigger needles than most knitted socks, so that you can quickly learn and work through the elements of toe-up sock knitting. The techniques you learn here will set you up for working with all kinds of other sock patterns. For this pattern you'll need less than 200 yards of worsted-weight yarn, size US 5 double-pointed needles, and a size G or H crochet hook (for the provisional cast-on). Videos + pattern are $8.00 via PayPal. Knitting Daily. JG: You're Putting Me On Socks. By Judy Gibson, April 1, 1996 Revised May 29, 1999 [This is the original worsted-weight women's size version of this pattern.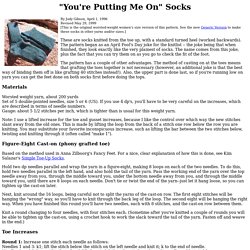 See the new Generic Version to make these socks in other yarns and/or sizes.] These are socks knitted from the toe up, with a standard turned heel (worked backwards). The pattern began as an April Fool's Day joke for the knitlist -- the joke being that when finished, they look exactly like the very plainest of socks. Generic Toe-up Sock Pattern. Size: women's medium (large) Note: You can adjust this pattern for any size, any gauge.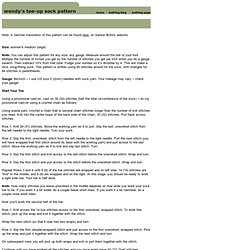 Measure around the ball of your foot. Multiply the number of inches you get by the number of stitches you get per inch when you do a gauge swatch. Then subtract 10% from that total. The Joy of Toe-Up Socks. Note from Sandi: There's more than one way to work a sock, as many long-time sock knitters will tell you.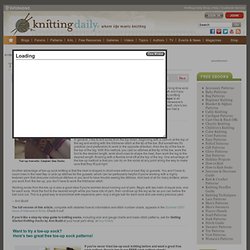 Most of us learn to make them by starting at the cuff--but if you find that this method isn't making you happy, then perhaps you could try knitting socks from the toe up. Here to explain this versatile and easy technique is an excerpt from Interweave Knits Summer 2007 by Ann Budd, author of Interweave's Getting Started Knitting Socks. Ann's a huge fan of handknit socks herself. (Ann's bio states that she has not worn a store-bought sock in years, and has never met a handknit sock she didn't like!) Classroom Observation Tips. Typically a student teacher spends the first few days observing his/her cooperating teacher before gradually assuming classroom responsibilities.
Even as the student teacher assumes increasing responsibility for instruction, there are many occasions to study the mentor teacher. These are perfect opportunities to observe and analyze the strategies used by the cooperating teacher. Free - Designs by Emily. Knitting Daily. Big knitting needles help finish projects quickly. Among the many pairs of knitting needles I've collected in anticipation of learning how to knit everything under the sun, I bought a pair of size 50, plastic needles.
They're fourteen inches long. Those are some big needles! Gone Loopy Boa. I think this is going to be one of my favorite knit stitches yet...the loop stitch is so much fun!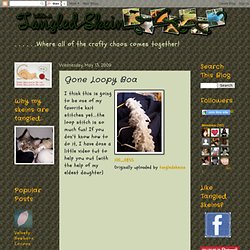 If you don't know how to do it, I have done a little video tut to help you out (with the help of my eldest daughter) The pattern is very simple... Beauty In Ashes. Spring is here and summer is fast approaching so I thought I'd work on something a little lighter than the thickest, warmest stuff I could possibly find (which is everything I've worked on this past 6 months or so.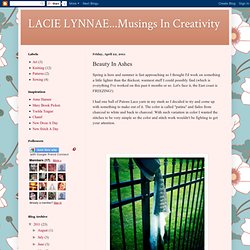 Let's face it, the East coast is FREEZING!) I had one ball of Patons Lace yarn in my stash so I decided to try and come up with something to make out of it. The color is called "patina" and fades from charcoal to white and back to charcoal. With such variation in color I wanted the stitches to be very simple so the color and stitch work wouldn't be fighting to get your attention. Flamboyant scarf. We´re still enjoying the yarn from Spinn-spinn. This cool, bulky yarn is called Teater, and just looks like a super happy yarn. We´ve mixed it up with a multicoloured mohair yarn, and made an airy scarf with pointy ends and and pom-poms.
If you want a similar scarf, we recommend that you buy the handspun yarn first, and then take it to your local yarn shop to find a yarn that works with it.Gauge4"=10 stitches What we used1 ball Teater1 ball Mohair LuxNeedles US 15 How we did itCast on 3 stitches using the Mohair Lux.Knit stripes using the bulky yarn where you feel like it. Free Dolls and Doll Clothes Knitting Pattern Link Directory. Free Knitting Patterns For American Girl Dolls. Anne Campbell's Needlework -- Free Patterns. American Girl Cardigan or Pullover Sweater Knitting Pattern. Breezy baby blanket. A light cotton baby blanket is perfect for a summer baby. This one is knitted in a light version of the sea foam pattern, wich makes it airy, stretchy and perfect for wrapping your baby. The blanket is knitted in Pickles Organic Cotton DK, wich is perfect for this tecnique, as it is spun from one thick and one very tin ply. Where other yarns would split in the loosely knitted parts, this yarn holds itself together and make the waves look fantastic!
NeedlesUS 8 20" or longer circular needle Yarn300 g Pickles Organic Cotton DK. Snowball Scarf. Snowball Scarf © Kathleen Brundige 2007 Note: The Snowman hat comes from Materials: any worsted weight yarnNeedles used were size 8, but any size is acceptableSize and Gauge: Varies per person CO 10 (I used long tail cast on) Free Designer Dishtowel Knitting Pattern" Making dishcloths is a great way for a knitting novice to practice new stitch patterns.These projects are quick, fun to make, and useful. Try the three patterns shown here, and beware: They're habit-forming!
Techniques. Free Hat Patterns. * Height given is measured BEFORE the brim is already folded up - from the base of the un-folded up brim to the center top of hat. They can be made taller if you want a larger brim to fold up - I like the brim fold up over the ears for added warmth. On newborn hats I plan to fold up about 1" to turn up for the brim, on adult hats I usually figure 2" to 3" so ears are covered. Newborn Head Circumference 13" - 14 " hat circ = 11.5" - 13" Hat height = 5.5 to 6" Toddler - preschooler (12 months - 3 years) Head Circumference: 18" to 20 " Hat height = 8"
Winter Patterns. Not Your Ordinary Knitted Dishcloth | Simple Days. Major Knitter: How To Knit Tutorials.
---