Ggustafso
Glenna
An educator for over 30 years, I am now working with preservice teachers at Raoford University.
My SCAN Dashboard
I write this blog to share ideas and resources with teachers, parents, and young people. This community supports those interested in sharing ideas about learning in ways that are innovative and relevant to generation text.Disclaimer: The opinions expressed in The Innovative Educator are strictly those of Lisa Nielsen and its contributors.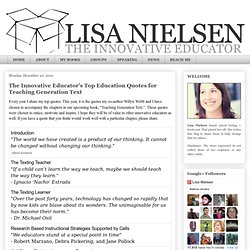 The Innovative Educator's Top Education Quotes for Teaching Generation Text
Knowledge through observation, and creativity through imagination, are the skills to become a good writer.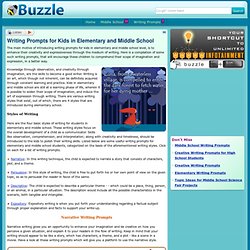 Writing Prompts for Kids in Elementary and Middle School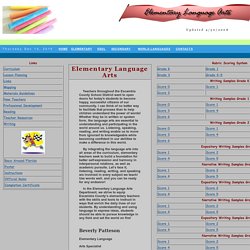 Teachers throughout the Escambia County School District want to open doors for today's students to become happy, successful citizens of our community. I can think of no better way to facilitate that process than to help children understand the power of words!
Elementary Language Arts
The Knowledge Processes at newlearningonline
Reading Educator
Areas of Inquiry: Research: Spencer Foundation
Upcoming Edcamps | The Edcamp Foundation
Mini-Lessons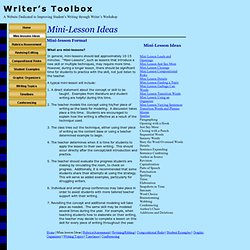 In general, mini-lessons should last approximately 10-15 minutes.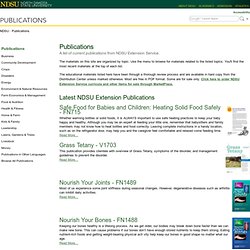 A list of current publications from NDSU Extension Service. The materials on this site are organized by topic. Use the menu to browse for materials related to the listed topics.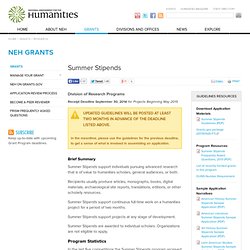 Summer Stipends support individuals pursuing advanced research that is of value to humanities scholars, general audiences, or both. Recipients usually produce articles, monographs, books, digital materials, archaeological site reports, translations, editions, or other scholarly resources.
Summer Stipends | National Endowment for the Humanities
Edvoices | Bloggers committed to improving public education in America
Using an iPad as an alternative to an interactive whiteboard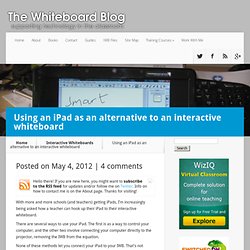 With more and more schools (and teachers) getting iPads, I'm increasingly being asked how a teacher can hook up their iPad to their interactive whiteboard.
Charlotte Fiber Festival June 2012
100 Web 2.0 Tools Every Teacher Should Know About 44.24K Views 0 Likes We're always trying to figure out the best tools for teachers, trends in the education technology industry, and generally doing our darnedest to bring you new and exciting ways to enhance the classroom. But I wanted t...
Education, Race and the Internet: Digital Divide or Racial Ravine?
Historically torn by racial and ethnic differences, Americans were supposed to benefit from the democratizing power of Internet technology. The Internet has been touted as the cure-all for every social ill imaginable, a new millennium development with the potential to broaden access to education, voting, and medical care—and in doing so, create a new avenue toward democracy.
Assistive Technology: Photos and Case Studies
The TeaShanty
Web Anywhere
WebAnywhere: A Screen Reader On the Go
The Organized Classroom Blog
Try Wikispaces Classroom now.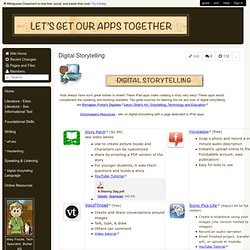 iPadsELA - Digital Storytelling
Ready for a toot?
Tutorials
Paint swatch activities
I don't know about you, but I am haunted by things that are free. Two of my biggest haunts - FedEx envelopes and paint swatches. Paint swatches, in particularly, are like sirens calling my name at Home Depot and Lowe's.
Click here for the new Vermilion Parish Interactives for the Louisiana 18 Literacy Strategies! *The new interactive links below were shared via twiiter by Adam Brice (@adambrice via via @SimplyBox) Vermilion Parish Curriculum Page Vermilion Parish Schools Testing Links Graphic Organizers 18 Literacy Strategies
Student Schedule
FREEBIES!
I thought it might be a good idea to put all of my FREEBIES in one spot, so here you go! Just click on the picture and it will take you to the FREEBIE! Be sure to go all the way to the bottom and you will find more FREEBIE Pages from my friends!
When I served as a Cooperating Teacher and later as a Lead Teacher I really enjoyed working with student teachers and beginning teachers. It was wonderful to see the growth and development in these fine young people. To Cybrary Man "On behalf of the faculty and students of the School of Education, I wish to thank you for your participation as a Cooperating Teacher in the Performance-Based Undergraduate Program for the Education of Teachers at Brooklyn College." Dean- Brooklyn College- City University of New York)
Student Teachers
Powerful Teacher Reflection using the Video Analysis Tool
Classroom Observation Tips
University • Page Title
Knowledge Loom Spotlight - Adolescent Literacy in the Content Areas
Literacy & Learning: Reading in the Content Areas
Glenna Gustafson's portaportal