Ggustafso
Glenna
An educator for over 30 years, I am now working with preservice teachers at Raoford University.
My SCAN Dashboard
I write this blog to share ideas and resources with teachers, parents, and young people. This community supports those interested in sharing ideas about learning in ways that are innovative and relevant to generation text.Disclaimer: The opinions expressed in The Innovative Educator are strictly those of Lisa Nielsen and its contributors. They do not reflect the opinions or endorsement of my employer or any other entity.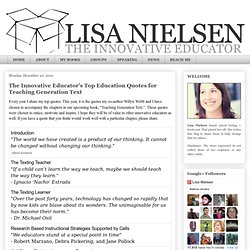 The Innovative Educator's Top Education Quotes for Teaching Generation Text
Knowledge through observation, and creativity through imagination, are the skills to become a good writer. Writing is an art, which though not inherent, can be definitely acquired through constant learning and practice. Kids in elementary and middle school are still at a learning phase of life, wherein it is possible to widen their scope of imagination, and induce the art of expression through writing. There are various writing styles that exist, out of which, there are 4 styles that are introduced during elementary school.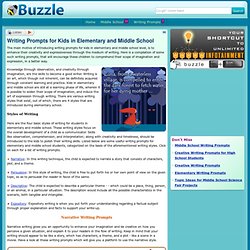 Writing Prompts for Kids in Elementary and Middle School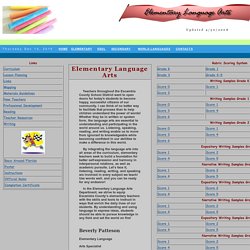 Teachers throughout the Escambia County School District want to open doors for today's students to become happy, successful citizens of our community. I can think of no better way to facilitate that process than to help children understand the power of words! Whether they be in written or spoken form, the language arts are essential to understanding and participating in the world around us. Listening, speaking, reading, and writing enable us to move from ignorant to knowledgeable while becoming confident in our abilities to make a difference in this world. By integrating the language arts into all areas of the curriculum, elementary teachers seek to build a foundation for better self-expression and harmony in interpersonal relations, as well as academic pursuits. Let's face it, listening, reading, writing, and speaking are involved in every subject we teach!
Elementary Language Arts
The Knowledge Processes at newlearningonline
Reading Educator
This June, the Edcamp Foundation will be collaborating with the United States Department of Education to cultivate interactive conversations between teacher leaders and policy leaders. Held in the heart of Washington DC, Edcamp US DOE will be an intimate gathering of teacher leaders and policy leaders in order to discuss the most important issues in education. Every conversation will focus on finding actionable solutions and answering tough, asset-based questions. The day will explore three themes: policy, ConnectED, and best practice. Interactive conversations will be proposed on the morning of the event, honoring every attendee's authentic voice.
Upcoming Edcamps | The Edcamp Foundation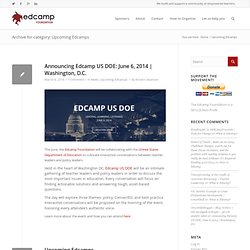 Mini-Lessons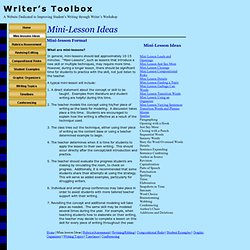 In general, mini-lessons should last approximately 10-15 minutes. "Maxi-Lessons", such as lessons that introduce a new skill or multiple techniques, may require more time. However, during a longer lesson, there should be significant time for students to practice with the skill, not just listen to the teacher. A typical mini-lesson will include: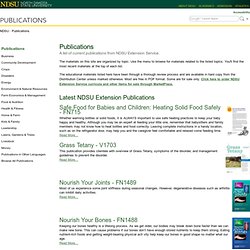 A list of current publications from NDSU Extension Service. The materials on this site are organized by topic. Use the menu to browse for materials related to the listed topics.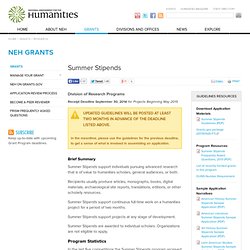 Summer Stipends support individuals pursuing advanced research that is of value to humanities scholars, general audiences, or both. Recipients usually produce articles, monographs, books, digital materials, archaeological site reports, translations, editions, or other scholarly resources. Summer Stipends support continuous full-time work on a humanities project for a period of two months. Summer Stipends support projects at any stage of development. Summer Stipends are awarded to individual scholars. Organizations are not eligible to apply.
Summer Stipends | National Endowment for the Humanities
Edvoices | Bloggers committed to improving public education in America
Classroom Management Guerrilla Teaching By Phil Nast July 19, 2011 9:16 am Now that the snow is gone, my son and I have been cycling the Erie Canal on weekends. Alone, I bike roads with lots of hills, but with a 12 year old I'm more comfortable on a path free of… Education policy
Using an iPad as an alternative to an interactive whiteboard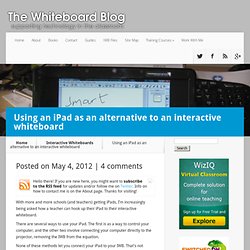 With more and more schools (and teachers) getting iPads, I'm increasingly being asked how a teacher can hook up their iPad to their interactive whiteboard. There are several ways to use your iPad. The first is as a way to control your computer, and the other two involve connecting your computer directly to the projector, removing the IWB from the equation. None of these methods let you connect your iPad to your IWB. That's not possible right now.
Charlotte Fiber Festival June 2012
What is EduApps? EduApps consists of eight useful software collections that are free for you to download and use. The EduApps Family covers a range of user requirements to support teaching and learning, so just choose the one that's right for you.
100 Web 2.0 Tools Every Teacher Should Know About 44.24K Views 0 Likes We're always trying to figure out the best tools for teachers, trends in the education technology industry, and generally doing our darnedest to bring you new and exciting ways to enhance the classroom. But I wanted t...
Education, Race and the Internet: Digital Divide or Racial Ravine?
Historically torn by racial and ethnic differences, Americans were supposed to benefit from the democratizing power of Internet technology. The Internet has been touted as the cure-all for every social ill imaginable, a new millennium development with the potential to broaden access to education, voting, and medical care—and in doing so, create a new avenue toward democracy. On the whole, that has not been the case. The utopian visionaries who watched too many Star Trek episodes in their youth forgot one important thing: In our world, profit often takes precedence over democratic dreams. The Digital Divide Nothing shows this more than the "digital divide" between the haves and the have-nots in the United States—a divide that often falls along racial lines, with poorer Americans, usually non-whites, having less access to adequate Internet services and, therefore, less ability to participate in the new opportunities presented by the Internet.
Assistive Technology: Photos and Case Studies
This is part of a series of three posts on weaving with a fuzzy warp. I'm putting this out there in the hopes that you might find some of it useful. I am in no way saying my way of approaching this is the Right Way.
The TeaShanty
Web Anywhere
A Screen reader on the go Try WebAnywhere! We released the initial version of WebAnywhere in July 2008, and it's recently received a lot of attention! Despite some minor hiccups, WebAnywhere has thus far survived the onslaught of visitors relatively unscathed.
WebAnywhere: A Screen Reader On the Go
The Organized Classroom Blog
iPadsELA - Digital Storytelling
Ready for a toot? Each week new tutorials will be posted. Please check back as often as you like. If you have a special request or an idea for a post, please leave a comment below a post or email me at jen at upcyclededucation.com. Tech Tuesday Bonus Wxdnxsdays (and other days of the week....where you always get a little xtra!)
Tutorials
Paint swatch activities
Student Schedule
FREEBIES!
Student Teachers
Powerful Teacher Reflection using the Video Analysis Tool
Classroom Observation Tips
University • Page Title
Knowledge Loom Spotlight - Adolescent Literacy in the Content Areas
Literacy & Learning: Reading in the Content Areas
Glenna Gustafson's portaportal