Akasha collective
Lockerz | Get rewarded for what you love to do online.
Elgan: Why Digg failed
Opinion March 19, 2011 08:00 AM ET Computerworld - OK, I'm going to call it: Digg is dead. No, the site hasn't gone dark. It still functions and has millions of users.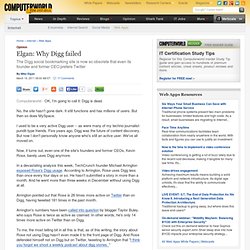 Typekit
In an MIT dorm room, Xobni started off as a pet project by co-founder Adam Smith to analyze the information in his Outlook inbox. When it became clear that these insights would be useful to others, he joined up with Matt Brezina to start Xobni. After receiving seed funding from YCombinator and other investors, the two drove across the country to San Francisco, and development began in earnest on an "addon" for Microsoft Outlook.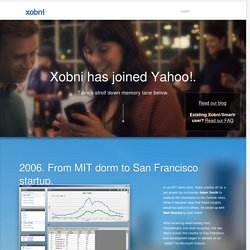 Xobni | Automatic rich profiles + email history + lightning fast search.
Delicious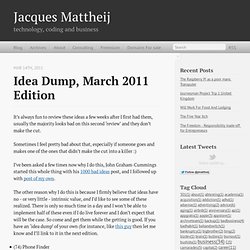 Idea Dump, March 2011 Edition | jacquesmattheij.com
It's always fun to review these ideas a few weeks after I first had them, usually the majority looks bad on this second 'review' and they don't make the cut. Sometimes I feel pretty bad about that, especially if someone goes and makes one of the ones that didn't make the cut into a killer :) I've been asked a few times now why I do this, John Graham-Cummings started this whole thing with his 1000 bad ideas post, and I followed up with post of my own. The other reason why I do this is because I firmly believe that ideas have no - or very little - intrinsic value, and I'd like to see some of these realized. There is only so much time in a day and I won't be able to implement half of these even if I do live forever and I don't expect that will be the case. So come and get them while the getting is good.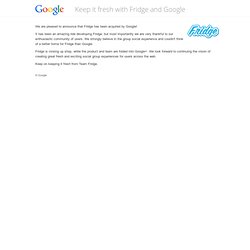 akshcllctve | fridge
We are pleased to announce that Fridge has been acquired by Google! It has been an amazing ride developing Fridge, but most importantly we are very thankful to our enthusiastic community of users. We strongly believe in the group social experience and couldn't think of a better home for Fridge than Google. Fridge is closing up shop, while the product and team are folded into Google+.
SocialFlow : Home
Akasha Collective - Quora
In software development, obfuscation is the deliberate act of creating obfuscated code, i.e. source or machine code that is difficult for humans to understand. Programmers may deliberately obfuscate code to conceal its purpose (security through obscurity) or its logic, in order to prevent tampering, deter reverse engineering, or as a puzzle or recreational challenge for someone reading the source code. Programs known as obfuscators transform readable code into obfuscated code using various techniques. Writing and reading obfuscated source code can be a brain teaser for programmers.
Obfuscated code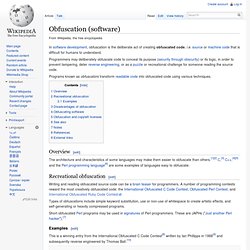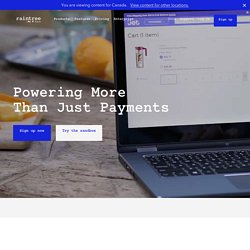 Pricing - Braintree Payment Solutions
[1] We are unable to underwrite the following business models:
Phoneify
This page is used to test the proper operation of the Cherokee Web Server after it has been installed. If you can read this page, it means that the Cherokee Web Server installed at this site is working properly. Note: You can safely remove this file from its default location at /var/www and replace it with your own, or configure the server to have the Web root elsewhere in your path. If you are the site administrator, please note that the Cherokee configuration is handled via a Web interface through the cherokee-admin subsystem, it is no longer meant to be hand-maintained.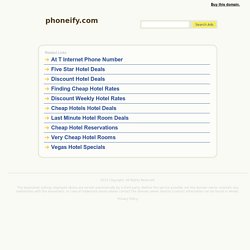 Dynamic Web Pages from your Photoshop Designs in Seconds! | psd 2 CSS Online
All with Little or No Coding! Testimonials "Amazing, Shaun. You're right, '_frames' is the coolest feature now. Thanks for demystifying theming and the incredible work" - cfkane1941 from YouTube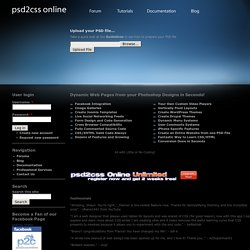 Starter kits are great timesavers for web designers and they are particularly useful for those who often create mock-ups for project pitching on daily basis. If you are a designer-cum-programmer think of it as your code snippets So what's in a starter kit?
27 Must-Have Starter Kits For Web Designers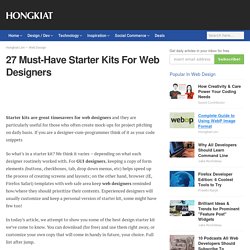 Launching Tech Ventures: Part I, Course Overview
Customer-Centric Analysis | Custora
Social media press releases
Pricing
Sharing Widget, Sharing Button, Sharing Plugin - ShareThis Sharing Button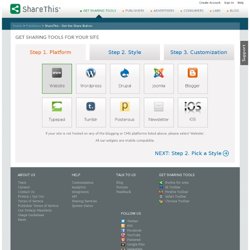 Add CopyNShare to your ShareThis Widget. Check the box on Step 3 to start tracking your users' copy and paste shares. FAQs .
Performance & Security for Any Website | CloudFlare | Home
threadsy - pull yourself together
Help
Using the Pastie Bot The pastie bot can be found on freenode in #rubyonrails or #ruby-lang. Obtaining a paste URL is easy. send a public message to pastie (e.g.
QR-Code Generator
Choose Coupon Type step 1 of 2Online Coupon (for your web shop)step 2 of 2In Store Coupon step 2 of 2 Sign Up & Continue * Please select prefered coupon type ! Create an onlinestore coupon and we'll provide you with a QR Code that links to it
Open Source Web Design - Download free web design templates.
Designologue Designer Link Blog Marc Hemeon, a fellow OSWD designer, has just launched Design By Humans — a community centered around t-shirt designs.
CapLinked.com
FAQ - Frequently Asked Questions | HelloFax
Packaging of the World: Creative Package Design Archive and Gallery
Tradeshift | Business Network
Free Website Uptime Monitoring - Uptime Robot
WiseStart | UK's top startpage. Reach everything with just one click.
Examples
Top 10 Reasons Why You Should Use Twitter For Your Business!
Entrepreneur Resource : A Collection of Resources
63 of the Best Free Online Tools for Designers and Developers
CSS Type Set
for Ruby on Rails Deployment | JumpBox Virtual Appliances and Applications for Cloud Computing
Inbox
SnapEngage Live chat and more...
Turn Startup - From Idea to Startup
Useful Free Web UI Elements PSD Packs | chethstudios Design Magazine
SourceForge.net: Download and Develop Open Source Software for Free
99 Icon Sets To Use In Commercial Design Projects
Plancast
» WiseStamp Email Signatures – Bring Life to your Email
akashacollective - Domainr
imgur: the simple image sharer
Railsware blog
10 Online Strategies for Your Next Product Launch
Dashboard: akasha collective
Postling
Big Rails Projects | Ruby on Rails examples | Rails web applications
Kontaktanzeigen, Chat, Singles, Dating, Flirten & Partnersuche | iLove Singlebörse
Building a Social Network Site in Rails | Ruby on Rails
Rails Development Directory
Allerin Developer Profile | Rails Developer in Mumbai | Rails Development Directory
Hashrocket
Portafolio
Sponsor Meetup Groups - Meetup
Akasha Collective | Home
brynn hudson jewelry
akasha collective - by IdeaScale
Twitter / Home