Signs
The Bad Signage Pool
Curiosities: Unfortunate Place Names
ROFL Photo
47 Random Funny Pics - StumbleUpon
Blog Archive & Funny Signs (Week 3, 15 Pics)
Dairy Queen Sign - CollegeHumor Picture
Happy Signs 7 - Worth1000 Contests
Facebook Water Cooler - Influential Mom Blogger, Parenting, Community - StumbleUpon
Most Hilariously Obnoxious Sports Fan Signs Funny Pics | Jockular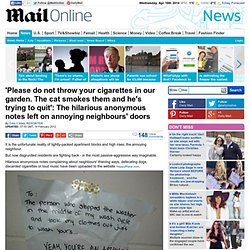 By Daily Mail Reporter UPDATED: 07:53 GMT, 14 February 2012 It is the unfortunate reality of tightly-packed apartment blocks and high rises: the annoying neighbour. But now disgruntled residents are fighting back - in the most passive-aggressive way imaginable. Hilarious anonymous notes complaining about neighbours' thieving ways, defecating dogs, discarded cigarettes or loud music have been uploaded to the website HappyPlace.com . What a chore: A note uploaded to HappyPlace.com shows the realities of sharing communal spaces
Hilarious anonymous notes left on neighbours doors | Mail Online - StumbleUpon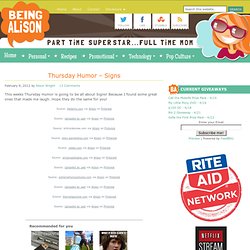 Thursday Humor - Signs - StumbleUpon
DISCLAIMER: All images on www.BeingAlison.com are licensed or readily available in various places on the Internet and believed to be in public domain. Images posted are believed to be posted within our rights according to the U.S. Copyright Fair Use Act (title 17, U.S. Code.) If you believe that any content appearing on www.BeingAlison.com infringes on your copyright, please let us know by using our contact form and send a DCMA take down request.
21 Bizarre Warning Signs | Smosh - StumbleUpon
Humorous street signs. | belladotka.com
Our roads are filled with them: stop signs, billboards, advertisements; you name it. Most of the time they're normal, correct—and boring. Every now and then (out of either sheer brilliance or stupidity) someone screws them up. Whatever the reason, these signs have one thing in common; they're worth a second look! If you're lucky, you'll spot one or two crazy road-side messages as you travel around the world.
50 Funniest Road Signs