SEO
31 Must-Read SEO Experiments and Test Findings. How do you completely de-personalize Google results? I asked this question to Twitter the other day but didn't get any answers I hadn't heard before.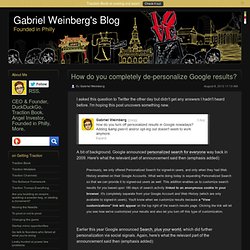 I'm hoping this post uncovers something new. A bit of background. Google announced personalized search for everyone way back in 2009. Here's what the relevant part of announcement said then (emphasis added): SEO Project Management - MozCon 2012 - By Aleyda Solis. New notifications about inbound links. Webmaster level: Advanced Lots of site owners use our webmaster console to see how their site is doing in Google.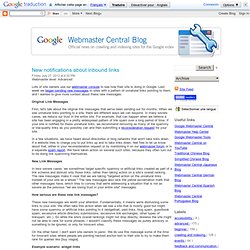 Last week we began sending new messages to sites with a pattern of unnatural links pointing to them, and I wanted to give more context about these new messages. Original Link Messages First, let's talk about the original link messages that we've been sending out for months. When we see unnatural links pointing to a site, there are different ways we can respond. Google Pushing Out Panda Update 3.9 Tonight. Google says it will roll out the latest update to its Panda algorithm later tonight.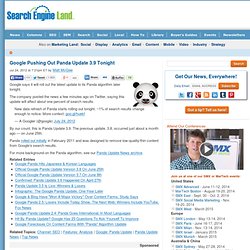 The company posted the news a few minutes ago on Twitter, saying this update will affect about one percent of search results. New data refresh of Panda starts rolling out tonight. ~1% of search results change enough to notice. More context: goo.gl/huekf— A Googler (@google) July 24, 2012 By our count, this is Panda Update 3.9. The previous update, 3.8, occurred just about a month ago — on June 25th.
Gaming Report. What is Link Building?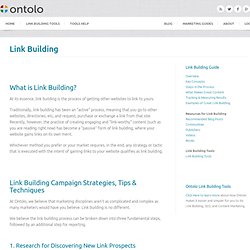 At its essence, link building is the process of getting other websites to link to yours. Traditionally, link building has been an "active" process, meaning that you go to other websites, directories, etc, and request, purchase or exchange a link from that site. Recently, however, the practice of creating engaging and "link-worthy" content (such as you are reading right now) has become a "passive" form of link building, where your website gains links on its own merit. Whichever method you prefer or your market requires, in the end, any strategy or tactic that is executed with the intent of gaining links to your website qualifies as link building. Share photos and videos on Twitter.
Gifts, Non-Events Report. How Huffington Post's Clever Traffic-Generation Machine Works. Kung-fu Panda vs. Ninja SEO - Carlos Redondo en Congreso SEO Profesional. Carlos Redondo hablará de Panda y de Pengüin.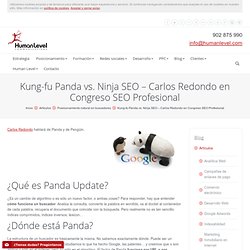 ¿Qué es Panda Update? ¿Es un cambio de algoritmo o es sólo un nuevo factor, o ambas cosas? Essential Enterprise SEO Reading: Happy 4th of July. While many are on vacation this week, we've collected a list of must-read articles for the SEO professional.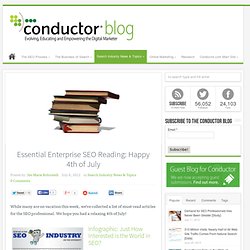 We hope you had a relaxing 4th of July! Infographic: Just How Interested is the World in SEO? Mashable featured an infographic by BlueCaribu today, featuring some aggregate statistics about searches on SEO. An interesting one: the United States ranks 4th among countries interested in SEO – behind India, Pakistan, and the Philippines. Linkbuilding en redes de blogs - Miguel Pascual en Congreso SEO Profesional. Miguel Pascual advierte: "Esta presentación puede tener contraindicaciones".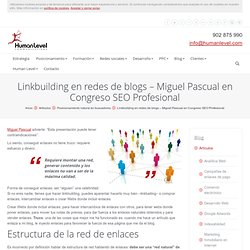 Lo siento, conseguir enlaces no tiene truco: requiere esfuerzo y dinero. Requiere montar una red, generar contenido y los enlaces no van a ser de la máxima calidad. Forma de conseguir enlaces: ser "alguien" una celebridad. Si no eres nadie, tienes que hacer linkbuilding, puedes aparentar hacerlo muy bien –linkbaiting– o comprar enlaces, intercambiar enlaces o crear Webs donde incluir enlaces. Financial Services Report. Hotels Report. One-Word Queries Up 19 Percent In Last Year, Hitwise Says. It looks like searcher behavior is changing.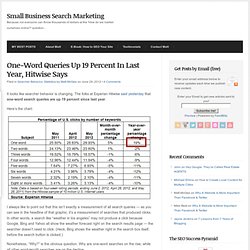 The folks at Experian Hitwise said yesterday that one-word search queries are up 19 percent since last year. Here's the chart: I always like to point out that this isn't exactly a measurement of all search queries — as you can see in the headline of that graphic, it's a measurement of searches that produced clicks. One to the Four to a Seven and a Ten if a Thirteenizzlish in the Sixteen. Quick answer: the 12-word limit includes stop words.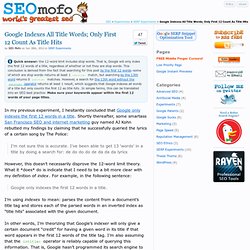 That is, Google will only index the first 12 words of a title, regardless of whether or not they are stop words. This conclusion is derived from the fact that searching for this post by the first 12 words–some of which are stop words–returns at least 1 intitle: match, but searching by the 13th word returns 0 intitle: matches. However, a search for the 13th word without the intitle: operator returns at least 1 result, which suggests that Google indexes all words of a title but only counts the first 12 as title hits. In simple terms, this can be translated into an SEO best practice: Make sure your keywords appear within the first 12 words of your page titles.
Tucamon.es. 9 YouTube video SEO Tips and tricks for better ranking. As a follow-up to last week's post on video SEO, this week we take a deep dive into how to optimize your videos for YouTube.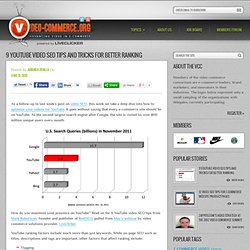 It goes without saying that every e-commerce site should be on YouTube. As the second largest search engine after Google, the site is visited by over 800 million unique users every month. How do you maximize your presence on YouTube? Read on for 9 YouTube video SEO tips from Mark Robertson, founder and publisher of ReelSEO, pulled from May's webinar by video commerce solutions provider, Liveclicker. A Model For Link Building: Beyond "Great Content" Content isn't everything. Content isn't the only thing. Often, it's not a thing at all. I would say "content is king" is accurate, but only because there are only 44 current monarchs, the system doesn't work everywhere, and those monarchies only account for a small proportion of the world's population. If you've read my post on content link efficacy, you know that content as an explanatory model for everything link building is simply ludicrous.
Creating the best piece of content, ever, on an insurance website will not produce the same results that the best piece of content – ever – will evoke on I Can Haz Cheeseburger. Apple Products Report. Tickets for SEO+You: Edición SEO+Developers, CAMON Madrid, Madrid, June 20. The online sale is closed El próximo 20 de Junio de 2012 se realizará la 1era edición de SEO+You sobre SEO+Developers, en Sala CAMON de Madrid a las 18:30h. En esta edición del evento queremos presentar y debatir sobre cómo el posicionamento en buscadores puede hacer sinergia con el desarrollo Web. Para ello contaremos con 4 invitados, con perfil técnico o emprendedor que compartirán con nosotros sus experiencias en los proyectos Web en los que han participado, específicamente en la interacción con las actividades de desarrollo y SEO: Raúl Jimenez - Fundador de minubeCarlos Sánchez - CEO de nvivo y 5gigChristian Van Der Henst - Fundador de Maestros del web y mejorando.laGiuseppe Ciotta - Director Técnico en QDQ Media.
Novedades en Congreso SEO 2012. Novedades en Congreso SEO 2012 Uys, como esta de calentito el SEO este año… Nuevos contenidos para el #seopro En principio el Congreso SEO 2012 era una repesca de contenidos, actualizados, para animar a los SEOs que no habian podido venir a ediciones anteriores a conocer el congreso y ponerse al día con los temas tratados en ediciones anteriores. Pero el tiempo pone a cada uno en su lugar, y algunos ponentes no quieren repetir ponencia. You Want Link Building? You Need Something Else! Are you interested in link building? Yes, that's what you think. In reality you need something else though. Let me explain. Ponentes. Movies Report. Mortgage Report. Albany Search Engine Optimization Company - SEO Elite. Verve Search » Blog Archive Have you got the SEO Force? In that order. Ok, so technically you don't actually need to be a Sci-Fi, chocolate and comedy fan to work here. But, we are looking for a Senior SEO/SEO Super Hero (the right person is more important than the title!
And we might be looking for YOU! Why work for Verve? Google Tests a New Interface for Info Panes. SEO and the Flight To Quality. Top SEO blogs by Blog Rank. Conversion Conference London: The First 58 Takeaways. Mitos del SEO que vale la pena revisar. How does Google use human raters in web search? The Biggest SEO Mistake: Spamming | Video. Identifying Link Patterns with SEO Tools. High Risk SEO: 33 Ways to Get Penalised by Google.
Comments on: 5. Мартин Макдоналд на Link Love London'12: «Как победить в борьбе за ссылки: советы бывалых» User Experience and Ranking Factors - our first Seattle... Panda 3.4 drops Google News website traffic by 98 percent. Google's New Speed Index Metric. Sign In. BrightonSEO 2012 - The Best Bits. Ponentes. Entradas para el Congreso SEO 2012. Digesting the EU Cookie Legislation. The Ultimate Resource Guide for Link Builders from Distilled LinkLove 2012. BlueGlass LA Interview with Chris Winfield. Entrevista a Jorge González de Publigrup. Link Love London SEO Conference 2012 Recap · seohimanshu. Adding Semantics to News Video. We Will Need To Work On Authority. Does Google Index My # Anchor Links?
Web Performance Optimization, Web Page Load Speed Optimization. Most Important SEO Patents Part 10: Just the Beginning. Community-curated Marketing News. 44 Google Webmaster Tools Resources. Search Scientists Break New Ground on Search Results. SEO Explained in 90 Seconds - Specials. 10 Keys to Ranking on Google & Bing During Breaking News Events [Study] The Goth's Guide To Link Building. Implementing Pagination Attributes Correctly For Google. Tips For Growing Keyword Seeds With Excel Formulas. How to Turn Your PR Team Into SEOs.
Link Building Tools We Use at Distilled. Video! The search quality meeting, uncut (annotated) Understand and Rock the Google Venice Update - YouMoz. 10 Inbound.org Use Cases for SEO Specialists and Other Business People. The Secret Double Life of Blog Posts. Google Webmaster Tools Revamps Crawl Errors, But Is It For The Better?
The Next Generation. Google Research: Yes, You Still Need To Keep Buying Search Ads. The Hitchhiker's Guide to Python! — pythonguide 0.0.1 documentation. Eight Useful Excel Functions for SEO. Python.
---