Industry News
What Neuroscience Tells Us About Consumer Desire. In the early 1950s, two scientists at McGill University inadvertently discovered an area of the rodent brain dubbed "the pleasure center," located deep in the nucleus accumbens.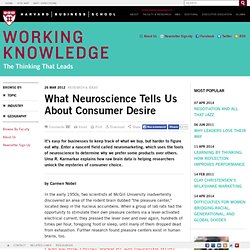 When a group of lab rats had the opportunity to stimulate their own pleasure centers via a lever-activated electrical current, they pressed the lever over and over again, hundreds of times per hour, foregoing food or sleep, until many of them dropped dead from exhaustion. Further research found pleasure centers exist in human brains, too. My problem(s) with 'inbound marketing' – Conversation Marketing. I want to emphasize that this is a friendly discussion between Rand and I—we're colleagues and friends, plus our companies are close enough together that he could bring his much more numerous minions to Portent and wipe us out in one afternoon of horrifying nerd slap-fighting.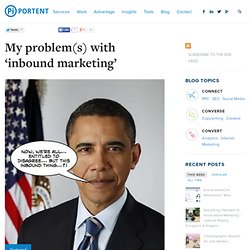 I've received a few comments I deleted because they seem to be taking things personally. Please read this post, and Rand's, and the discussion around them, as they're meant to be read: An interesting discussion about where our industry is headed, and how we should name ourselves. Yes, I'll get hate mail for this one, too. Rand wrote a great post earlier today (or late last night – does he ever sleep?!) Investing in SEO and the Myth of Working Dollars - YouMoz.
Over the years the team at Three Deep has built our SEO and PPC practice from scratch, working with a variety of clients along the way.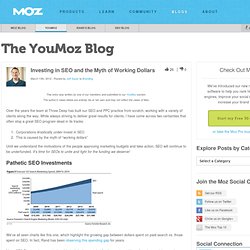 While always striving to deliver great results for clients, I have come across two certainties that often stop a great SEO program dead in its tracks: Corporations drastically under-invest in SEO This is caused by the myth of "working dollars" Until we understand the motivations of the people approving marketing budgets and take action, SEO will continue to be underfunded. It's time for SEOs to unite and fight for the funding we deserve! The Brand of SEO and the Trend of Inbound Marketing. The web marketing community, and specifically many folks in the search field have recently been engaging in lots of conversations about the industry's nomenclature.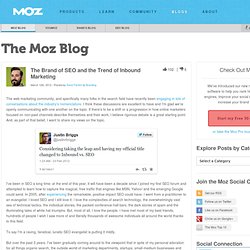 I think these discussions are excellent to have and I'm glad we're openly communicating with one another on the topic. If there's to be a shift or a progression in how online marketers focused on non-paid channels describe themselves and their work, I believe rigorous debate is a great starting point. And, as part of that belief, I want to share my views on the topic. I've been in SEO a long time; at the end of this year, it will have been a decade since I joined my first SEO forum and attempted to learn how to capture the magical, free traffic that engines like MSN, Yahoo! And the emerging Google could send. Internet Marketing and the Limitations of Language. Posted by Adam Audette | April 10, 2008 | 22 comments Words matter.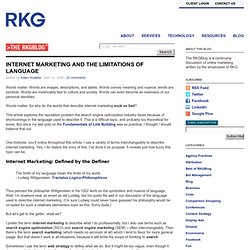 Words are images, descriptions, and labels. Words convey meaning and nuance; words are symbols. Despite Backlash, Google's "Search Plus Your World" Hasn't Impacted Google's Market Share. ComScore has released its search data for February 2012, and Google continues to lead, gaining 0.2 percentage points over the previous month, up to 66.4% in February from 66.2% in January.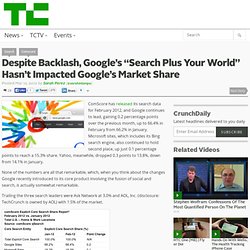 Microsoft sites, which includes its Bing search engine, also continued to hold second place, up just 0.1 percentage points to reach a 15.3% share. Yahoo, meanwhile, dropped 0.3 points to 13.8%, down from 14.1% in January. None of the numbers are all that remarkable, which, when you think about the changes Google recently introduced to its core product involving the fusion of social and search, is actually somewhat remarkable. Trailing the three search leaders were Ask Network at 3.0% and AOL, Inc. (disclosure: TechCrunch is owned by AOL) with 1.5% of the market. Home | Project Re: Brief by Google.
---