Content Marketing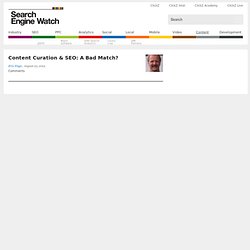 Many publishers continue to seek cheap and easy ways to publish lots of pages and get them up with a goal of bringing in incremental search traffic. One method many people look at is content curation. However, content curation could be a very risky practice for you. There may be a role for curated content on your site, but there is a chance that you should be placing noindex tags on those pages. Two forms of content curation that can potentially be useful to users are: Posting a list of links of the latest news.Building pages listing the best resources you can find on a particular topic area.
Content Curation & SEO: A Bad Match?
Long ago and far away, there was a world where there was no Web. Back in those early years (such as the 1960′s through the mid-1990s), there were certain basic concepts that guided the world of marketing. One of the facts of life during those times was that each market space tended to support somewhere between three and five major brands, and no more. The major brands were the ones competing for general merchandise or services on a national or global scale. Regardless of where you went, they were there.
The Concept Of Sameness & Why It Should Matter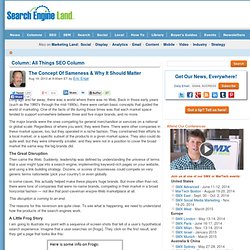 Live from SMX Advanced: Getting Curation Right
Janet Driscoll Miller | Jun 11, 2013 What is content curation? How can it benefit you as a marketer? This panel sought to answer those questions and featured Brent Csutoras of Kairay Media, Virginia Nussey of Bruce Clay, Inc., and Amy Vernon of Internet Media Labs.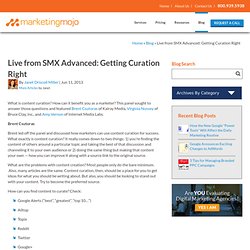 According to a CMI and MarketingProfs study, 91% of B2B Marketers are using content marketing and that means a few things: First, it means content marketing has gained critical mass within the popular marketing mix and any company in a competitive industry would be hard pressed to attract business without it. Second, it means competition to stand out with your brand's content is only going to get harder as more companies adopt content marketing best practices and mature in their skills.
11 B2B Content Marketing Case Studies with Killer Marketing Performance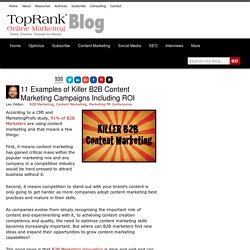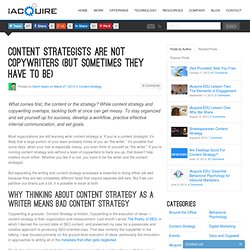 Content Strategists Aren't Copywriters
Most organizations are still learning what content strategy is. If you're a content strategist, it's likely that a large portion of your team probably thinks of you as "the writer." It's possible that some days, when your hair is especially messy, you even think of yourself as "the writer."
5 Pinterest Boards for Content Marketers
inShare46 Are you a content marketer? Do you love Pinterest? If you don't, you should, because there is no better place to find relevant content for your industry, nor is there a quicker way to share that content.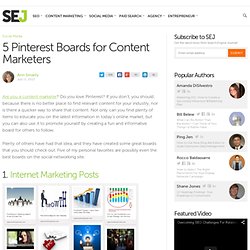 "In my younger and more vulnerable years my father gave me some advice that I've been turning over in my mind ever since. 'Whenever you feel like criticizing any one,' he told me, 'just remember that all the people in this world haven't had the advantages that you've had.'" Can you read the above paragraph easily? If so, count yourself one of the lucky literate.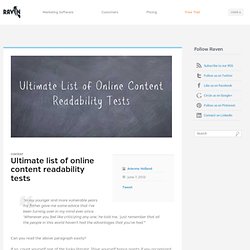 Ultimate list of online content readability tests
You've seen them – ultimate marketing guides to Twitter, Facebook, Tumblr, and other important digital marketing resources. Creating ultimate guides are a great way to attract traffic, links, and social shares to your blog or website. The issue most people run into is with the number of blogs out there (especially ones on online marketing) – how do you create an ultimate guide if there are already tons of posts on a given subject? In today's post, we're going to look at the steps to creating the ultimate guide to anything and how you can use your ultimate guide to get mailing list subscribers.
Creating Ultimate Guides and Using Them to Build Your Marketing List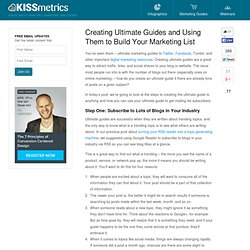 Expanding the Content Life Span: Interview with Dennis Goedegebuure
Four Seriously Cool Information Resources
As a librarian, researcher and frequent blogger, I'm constantly coming across incredibly useful online information resources that are most effectively searched using their own site search tools, rather than relying on general-purpose engines to surface their valuable content. I plan to start writing about these on a regular, ongoing basis, using a bullet-point format that highlights the most useful features of each resource, rather than doing in-depth reviews. Without further ado, here are the first four (of many more to come).
ne of the most magical things about the internet is that it's a whimsical rabbit hole of discovery – we start somewhere familiar and click our way to a wonderland of curiosity and fascination we never knew existed. What makes this contagion of semi-serendipity possible is an intricate ecosystem of "link love" – a via-chain of attribution that allows us to discover new sources through those we already know and trust. A suggested system for honoring the creative and intellectual labor of information discovery by making attribution consistent and codified, celebrating authors and creators, and also respecting those who discover and amplify their work.
The Beginner's Guide To Content Marketing
Content marketing is a relatively new type of marketing that provides free media-type content to customers in exchange for their attention. Unlike traditional advertising which interrupts customers to get noticed, content marketing provides content that customers want in exchange for permission to market a product or service. If you've never heard of this concept, that's ok. This article provides a complete introduction to content marketing by discussing the following points: The fatal flaws of traditional advertisingAn in-depth introduction to content marketingThe advantages that content marketing provides over traditional advertisingTips on the best practices that will make your content marketing more effective If you'd like to learn how you can benefit from content marketing, continue reading.
"Before PowerPoint, you had to go find a designer to create a custom presentation," says Stew Langille. "Even though everyone hates PowerPoint now, it was really helpful when it first came out." Now Langille's startup, Visual.ly, is attempting to do for infographics what Microsoft did for presentations. Today, the company launched a new platform to allow virtually anyone to create data visualizations.
How to Create Viral Infographics, Part 2: the Data
This is part two of a three-part series on creating viral infographics. Read the first installment, on finding the right story, here. Infographics, with their constantly shifting definition, are nothing more than a communication tool and can be abused just as easily as the 3D pie chart button in Excel. A strong infographic has a strong data backend, but that data doesn't have to be numerical. Data-vis communicates data.
In this video I interview Mitch Joel , author of Six Pixels of Separation and president of Twist Image . Mitch shares insights into how content has changed the way we do business. He also gives you insights into the questions to ask to . Be sure to check out the takeaways below after you watch the video.
How Content Can Spur Change for Businesses
Ever heard of SlideShare? It's a site that hosts your slide deck from Powerpoint or Keynote. It's one of those great content marketing platforms most people have never heard of. Some impressive stats first of all: SlideShare is one of the top 150 sites on the web, they get 60 million visitors per month and have 3 billion slide views a month (that's 1,140 slides viewed per second). So the traffic is good but it's also the right type of traffic for most content marketers – it's highly professional. According to ComScore, SlideShare has five times more traffic from business owners than other popular websites like LinkedIn, Facebook and Twitter.
How To Use Slideshare for Your Content Marketing [10 Tips]