Content Marketing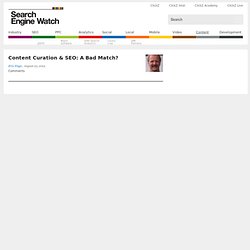 Many publishers continue to seek cheap and easy ways to publish lots of pages and get them up with a goal of bringing in incremental search traffic. One method many people look at is content curation.
Content Curation & SEO: A Bad Match?
Long ago and far away, there was a world where there was no Web.
The Concept Of Sameness & Why It Should Matter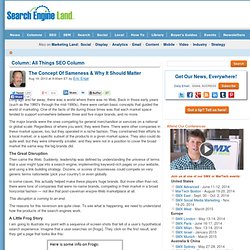 Live from SMX Advanced: Getting Curation Right
Janet Driscoll Miller | Jun 11, 2013 What is content curation? How can it benefit you as a marketer? This panel sought to answer those questions and featured Brent Csutoras of Kairay Media, Virginia Nussey of Bruce Clay, Inc., and Amy Vernon of Internet Media Labs.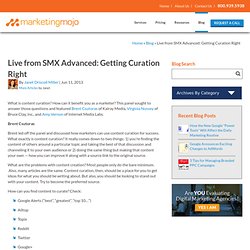 According to a CMI and MarketingProfs study, 91% of B2B Marketers are using content marketing and that means a few things: First, it means content marketing has gained critical mass within the popular marketing mix and any company in a competitive industry would be hard pressed to attract business without it. Second, it means competition to stand out with your brand's content is only going to get harder as more companies adopt content marketing best practices and mature in their skills.
11 B2B Content Marketing Case Studies with Killer Marketing Performance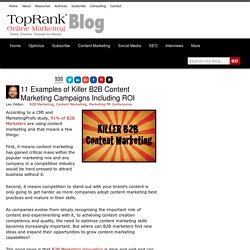 Content Strategists Aren't Copywriters
Most organizations are still learning what content strategy is. If you're a content strategist, it's likely that a large portion of your team probably thinks of you as "the writer." It's possible that some days, when your hair is especially messy, you even think of yourself as "the writer."
5 Pinterest Boards for Content Marketers
inShare46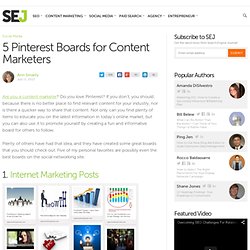 "In my younger and more vulnerable years my father gave me some advice that I've been turning over in my mind ever since.
Ultimate list of online content readability tests
You've seen them – ultimate marketing guides to Twitter, Facebook, Tumblr, and other important digital marketing resources.
Creating Ultimate Guides and Using Them to Build Your Marketing List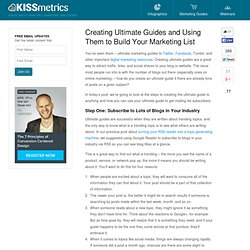 Expanding the Content Life Span: Interview with Dennis Goedegebuure
Four Seriously Cool Information Resources
As a librarian, researcher and frequent blogger, I'm constantly coming across incredibly useful online information resources that are most effectively searched using their own site search tools, rather than relying on general-purpose engines to surface their valuable content. I plan to start writing about these on a regular, ongoing basis, using a bullet-point format that highlights the most useful features of each resource, rather than doing in-depth reviews. Without further ado, here are the first four (of many more to come).
The Beginner's Guide To Content Marketing
Content marketing is a relatively new type of marketing that provides free media-type content to customers in exchange for their attention. Unlike traditional advertising which interrupts customers to get noticed, content marketing provides content that customers want in exchange for permission to market a product or service.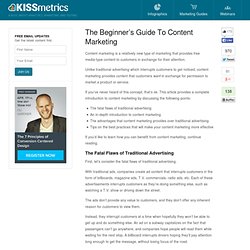 "Before PowerPoint, you had to go find a designer to create a custom presentation," says Stew Langille.
How to Create Viral Infographics, Part 2: the Data
This is part two of a three-part series on creating viral infographics.
In this video I interview Mitch Joel , author of Six Pixels of Separation and president of Twist Image .
How Content Can Spur Change for Businesses
Ever heard of SlideShare? It's a site that hosts your slide deck from Powerpoint or Keynote.
How To Use Slideshare for Your Content Marketing [10 Tips]