Professional
ARNOVA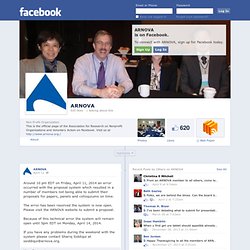 As a reminder, our proposal system is open and the deadline to submit a proposal for the ARNOVA Annual Conference in Denver is 11:59 PM on Friday, April 11, 2014. To submit a proposal for the 2014 conference, please visit our website at w...ww.arnova.org and click on the tab labeled "Submit a Proposal". Current ARNOVA members will use their ARNOVA credentials to access the submission system. Please remember, the login information is your email address and the unique password chosen when your ARNOVA membership was established.
(12) ARNOVA
ASPA
Founded in 1993, AHRD is a global organization made up of, governed by, and created for the Human Resource Development (HRD) scholarly community of academics and reflective practitioners. The Academy was formed to encourage systematic study of human resource development theories, processes, and practices; to disseminate information about HRD; to encourage the application of HRD research findings; and to provide opportunities for social interaction among individuals with scholarly and professional interests in HRD from multiple disciplines and from across the globe. We invite you to join our community. To access the photos from the 2014 Conference in the Americas, Please visit http://www.enjoyphotos.com, and use the following information: Username: ahrd2014b and Password: 5630. Use your email address to download the photos after you purchase them.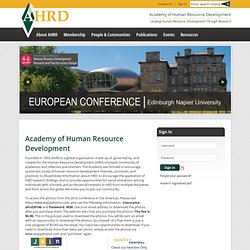 AHRD
Featured ASQ recently released our latest manufacturing outlook survey. As you may know, we conduct this survey every year.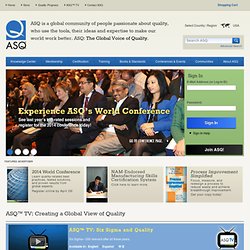 (12) American Society for Quality
Case Study: Clean Approach Saves Global Pharmaceutical Drug Manufacturer Time, Money by Janet Jacobsen Mallinckrodt Facility Image The cleaning procedure at Mallinckrodt Pharmaceuticals' salts facility in St. Louis, Mo., was hindered by s...ignificant bottlenecks.
(12) ASQ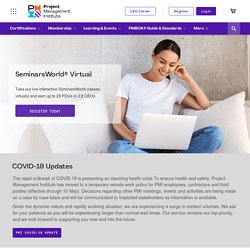 Earn a certification and outpace the competition PMI credentials distinguish you in the job market and can help you move ahead. Several certifications including the PMP® validate a range of education and experience levels in project management.
(12) Project Management Institute