Food
Spanish Tortilla for the Boston Globe. Spanish Tortilla for the Boston Globe Ok.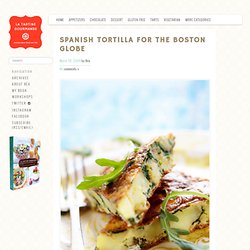 I am a few days behind. It seems to be happening a lot lately. But better late than not at all. I still have an email to send to all of you who kindly offered to help with the testing of my recipes. 47 Things I Wish My Mom Taught Me About Cooking | Learn Something New Today. Growing up I loved to eat.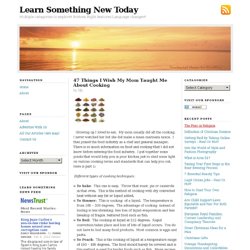 My mom usually did all the cooking. I never watched her but she did make a mean marinara sauce. I then joined the food industry as a chef and general manager. Equivalents and Measures. Vinul.ro – Vinuri & Lifestyle. Gourmandine - Retete - Recipes by Iulia. Retete culinare - Romanesti si din Bucataria internationala. Cooking - PeTocuri.ro. Placinte cu crenvusti. Caracatita din crenvusti Caracatita din crenvusti este o mancare simpla si haioasa pentru copii.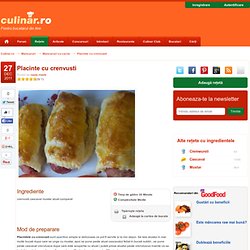 Se taie un crenvusti in 2 sau 3 bucati. Se sectioneaza piciorusele avand grija sa nu taiati pana la capat, altfel ramaneti numai ... Food Comparison | TwoFoods. Broccoli Cheese Soup. *Update (10/2011): We continue to love this soup (and eat it often)!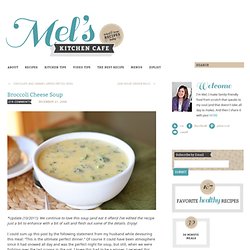 I've edited the recipe just a bit to enhance with a bit of salt and flesh out some of the details. Enjoy! I could sum up this post by the following statement from my husband while devouring this meal: "This is the ultimate perfect dinner." Reteta Tartă cu roşii, dovlecei şi caşcaval - Mancaruri de legume. Roşiile şi dovlecelul se spală, se şterg şi se taie felii subţirele.
Feliile de dovlecel se prăjesc în puţin ulei. Se scot pe hârtie absorbantă. Ouăle se bat foarte bine şi se amestecă cu 150 g cascaval şi brânza rase şi un praf de piper. Foaia de tartă....din comerţ.... se intinde în tava specială sau ....cum am avut eu...un castron termorezistent şi deasupra se asează alternativ feliile de dovlecel prăjite cu cele de roşii şi cu restul de caşcaval tăiat feliuţe subţiri. Se toarnă deasupra compoziţia de ouă şi se dă vasul la cuptor la foc mic cam 35 minute sau mai exact pâna ce ouale s-au închegat. Dovlecei, vinete, rosii, mozzarella si cascaval, toate la cuptor | La masa cu Ionut. Dovlecei cu rosii si branza | Retete culinare - Dovlecei cu rosii si branza. Imi este dor de primavara!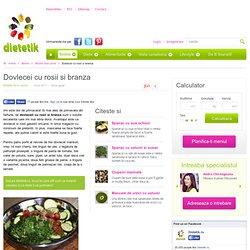 Si mai ales de primavara din farfurie, iar dovleceii cu rosii si branza sunt o solutie excelenta care imi mai alina dorul. Avantajul este ca dovlecei si rosii gasesti oricand, in orice magazin cu minimum de pretentii. In plus, mancarea se face foarte repede, are putine calorii si este foarte buna la gust. Pentru patru portii ai nevoie de trei dovlecei marisori, vreo 14 rosii cherry, trei linguri de ulei, o legatura de patrunjel proaspat, o lingura de pasta de tomate, trei catei de usturoi, sare, piper, un ardei iute, doar daca vrei o varianta picanta, doua felii groase de paine, o lingura de pesmet, doua linguri de parmezan ras, coaja de la o lamaie. Ligia Pop | Arhiva categoriei | Ligia's Kitchen. Food Pyramid Submissions (Raw Image) - StumbleUpon.
Chicken Parmigiana. This is one of the go-to dishes I make for my family of six.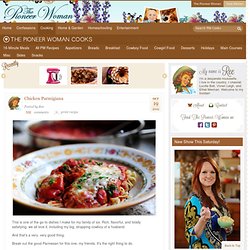 Rich, flavorful, and totally satisfying, we all love it, including my big, strapping cowboy of a husband. And that's a very, very good thing. Break out the good Parmesan for this one, my friends. It's the right thing to do. Begin with four to six boneless, skinless, trimmed chicken breasts. Baked Egg Boat recipe. Breakfast is my favorite meal.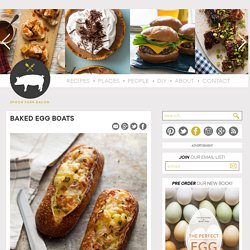 I like to drink iced coffee and watch the cream climb its way down the chunky ice cubes in a dazy before the caffeine hits. I like to order bacon with whatever I'm eating. I like eating potatoes with ketchup. I like eggs over easy, and fluffy scrambled eggs. I pretty much like everything there is to like about breakfast. Grilled Chicken with Spinach and Melted Mozzarella. Grilled chicken doesn't have to be boring, top it with sauteed spinach with garlic, mozzarella cheese and roasted peppers and you have a quick and easy chicken dish your family will love!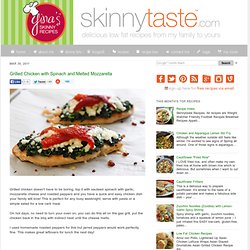 This is perfect for any busy weeknight; serve with pasta or a simple salad for a low carb meal. On hot days, no need to turn your oven on, you can do this all on the gas grill, put the chicken back in the bbq with indirect heat until the cheese melts. Chicken and Mushrooms in a Garlic White Wine Sauce. Here's a great tasting, quick and easy chicken dish; perfect for busy weeknights and great for those on a budget!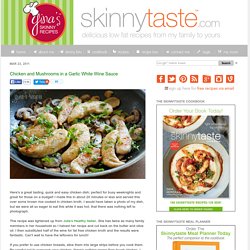 I made this in about 20 minutes or less and served this over some brown rice cooked in chicken broth. I would have taken a photo of my dish, but we were all so eager to eat this while it was hot, that there was nothing left to photograph. This recipe was lightened up from Julia's Healthy Italian. Punchfork — The best new recipes from top food sites. Food Network - Easy Recipes, Healthy Eating Ideas and Chef Recipe Videos. Chicago-Style Deep Dish Pizza. 88 Snacks Under 100 Calories Originally from The... | Matchstick Molly - StumbleUpon.
---