CHRISTIAN CLASSICS
Mysteries of the Catholic Church
In this electronic edition of the Early Church Fathers series, the volumes have been carefully proofed and converted to ThML by CCEL staff and volunteers.
Early Church Fathers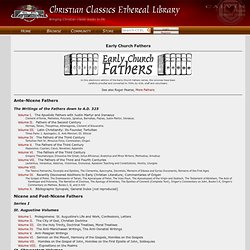 The Passion Narrative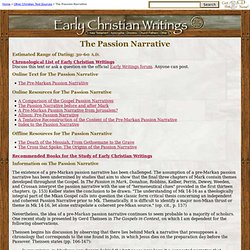 At a Glance
Early Christian texts did their best to exculpate Pilate from the death of Jesus. In his Apologeticum , the church father Tertullian thinks that Pilate was a Christian at heart. The author of the text known as the Didascalia apostolorum (5.19.4) informs us that Pilate did in fact not consent with the wicked deeds of the Jews.
Pontius Pilate
THE GOSPEL CALLED THE PROTEVANGELION for Forbidden Gospels and Epistles
Paul to the Laodiceans
ANCIENT RECORDS
The Original Catholic Encyclopedia
CHURCH FATHERS: Church History (Eusebius)
Ad0001 - Churchhistory
The archaeological and historical wrightings of the sanhedrin an
ANF01. The Apostolic Fathers with Justin Martyr and Irenaeus
THE LOST GOSPELS-GNOSTIC GOSPELS
2011 Quito Pilgrimage – Part II The Last Day of Gabriel Garcia Moreno Marian T. Horvat, Ph.D. One of the highlights of my pilgrimage to Quito was to follow the footsteps of President Gabriel García Moreno, the "truly Catholic president" Our Lady of Good Success predicted would come in the 19th century and consecrate the country to the Sacred Heart. In a fledgling Republic dominated by liberal Freemasons who had evicted the Jesuits and were ruthlessly persecuting the Church, a statesman of different ilk entered Ecuador's political scene in the 1860s.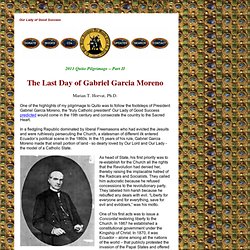 The Last Day of Gabriel Garcia Moreno by Marian T. Horvat
All A B C D E F G H I J K L M N O P Q R S T U V W X Y Z A Dictionary of the Bible ( Philip Schaff ) Abandonment to Divine Providence ( Jean-Pierre de Caussade )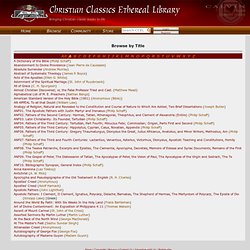 Browse by Title