Dust or Magic
[ Perspectum - work by Seth Hunter ] Brooklyn Space Program. Software MacKiev - Kid Pix Deluxe 3D. Origo a 3D printer for everyone | Origo a 3D printer for mom, dad and the entire family. Codify Brings Entry-Level Coding to iPad Users. Codify is an app for budding programmers looking to experiment with Lua.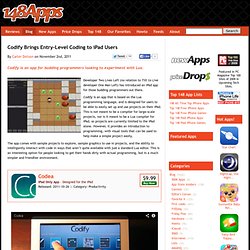 Developer Two Lives Left (no relation to Tilt to Live developer One Man Left) has introduced an iPad app for those budding programmers out there. Codify is an app that is based on the Lua programming language, and is designed for users to be able to easily set up and use projects on their iPad. This is not meant to be a compiler for large-scale projects, nor is it meant to be a Lua compiler for iPad, as projects are currently limited to the iPad alone. Monkey Preschool: iPhone Games for Ages 2 to 6. Calculation Nation® - Challenge others. Challenge yourself.®
Sphero. MathDoodles. The Phantom Tollbooth (9780394820378): Norton Juster, Jules Feiffer. Secret Life of Scientists & Engineers. DTC Lab. Math Snacks.
---