Societies
SGGEE Home
You will find that this site works best using a quality browser like Firefox or Google Chrome. December 2013 Journal The December 2013 issue of the SGGEE Journal is now posted in the Members' area of the website. SGGEE members Richard Benert and Peter von Pazatka Lipinsky wrote the main articles for this month's Journal.
Arbeitsgemeinschaft ostdeutscher Familienforscher e.V. (AGoFF)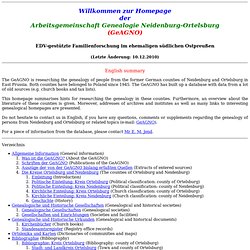 Die Literaturangaben im folgenden sind nach Orten separiert. Zunächst wird die Literatur zu den drei Städten Ortelsburg (sowie Landkreis Ortelsburg allgemein), Passenheim und Willenberg aufgelistet, anschließend folgen Literaturangaben zu den Landgemeinden. Ortelsburger Heimatblatt. Der Yorcksche Jäger.
Homepage der Genealogischen Arbeitsgemeinschaft Neidenburg-Ortel
GenWiki - das Genealogie-Wiki