Societies
SGGEE Home
You will find that this site works best using a quality browser like Firefox or Google Chrome. Lutheran Parishes in Russian Poland This page has been completely rewritten and modified with direct links to available online records. Includes160 parishes and is up-to-date with records known to be online.
Arbeitsgemeinschaft ostdeutscher Familienforscher e.V. (AGoFF)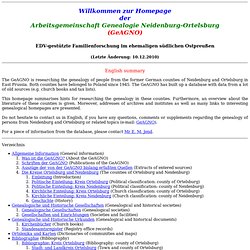 Die Literaturangaben im folgenden sind nach Orten separiert. Zunächst wird die Literatur zu den drei Städten Ortelsburg (sowie Landkreis Ortelsburg allgemein), Passenheim und Willenberg aufgelistet, anschließend folgen Literaturangaben zu den Landgemeinden. Ortelsburger Heimatblatt. Der Yorcksche Jäger.
Homepage der Genealogischen Arbeitsgemeinschaft Neidenburg-Ortel
GenWiki - das Genealogie-Wiki