Escritores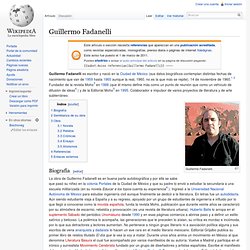 Guillermo Fadanelli es escritor y nació en la Ciudad de México (sus datos biográficos contemplan distintas fechas de nacimiento que van de 1959 hasta 1965 aunque la real, 1960, no es la que más se repite). 14 de noviembre de 1960. [ 1 ] [ 2 ] Fundador de la revista Moho [ 3 ] en 1988 (que él mismo define más como un punto de reunión que como un vehículo de difusión de ideas [ 4 ] ) y de la Editorial Moho [ 5 ] en 1995 .
Guillermo Fadanelli
Literaturas.com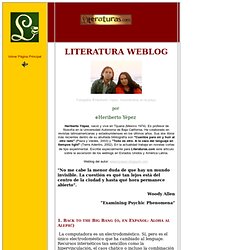 Fotografía © Heriberto Yépez.
Nombre: Mario Bellatín en Porta9 – (1 de 3).
Cultura Entubada: Mario Bellatín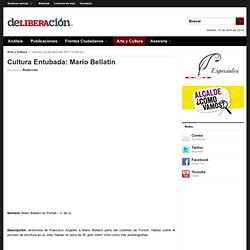 malversando.com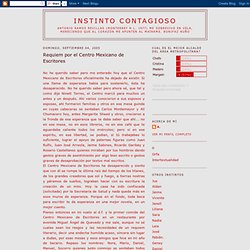 No he querido saber pero me enterado hoy que el Centro Mexicano de Escritores oficialmente ha dejado de existir.
Requiem por el Centro Mexicano de Escritores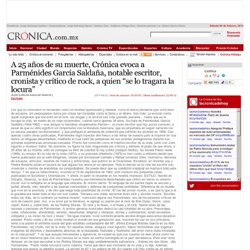 A 25 años de su muerte, Crónica evoca a Parménides García Saldaña, notable escritor, cronista y crítico de rock, a quien "se lo tragara la locura"
Los que lo conocieron lo recuerdan como un hombre apasionado y rebelde, como el eterno disidente que vivió lleno de excesos, sin preocuparse nunca por cosas tan insípidas como la fama y el dinero. Aún más. Lo evocan como aquél marginado que encontró en el rock, las drogas y el alcohol sus más grandes placeres... hasta que se le escapó la vida, en medio de un viaje rocanrrolero, cuando tenía apenas 38 años.
::: Luis González de Alba :::
omegar.org
Margo Glantz - Su obra - Catálogo
Margo Glantz - Página principal
Con la creación de la Biblioteca de Autor Margo Glantz, la Biblioteca Virtual Miguel de Cervantes rinde homenaje a una de las máximas figuras de la cultura mexicana (miembro de la Academia de la Lengua desde 1995 y Premio Nacional de Ciencias y Artes 2004), que es además un destacado nombre de la creación y la investigación en el mundo hispánico. Imágenes, audiciones, textos de y sobre Margo Glantz son algunos de los materiales que el usuario va a encontrar en un espacio con el que pretendemos dar cuenta de la personalidad polifacética de esta escritora de inagotable curiosidad y gran espíritu crítico.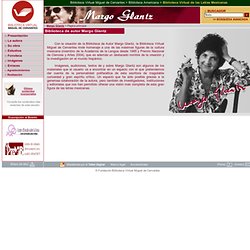 Almudena Grandes
Almudena Grandes Hernández ( Madrid , 7 de mayo de 1960 ) es una escritora española .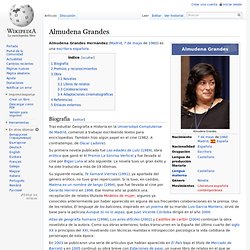 sandra lorenzano
E-magazine, Gallery, Portfolio, Connection, Designer, Art, Animation, Digital Art, Graphic, Graphic Artist, Flash, Print, Illustration, Advertising, CG, Film-making, Interior, Architectural, Wraper, Photography
Antonio Ortuño
Antonio Ortuño es un escritor mexicano , nacido en Guadalajara , en 1976 . Es autor de las novelas El buscador de cabezas ( Joaquín Mortiz , 2006) y Recursos humanos (finalista del Premio Herralde de novela , Anagrama, 2007), así como de los libros de cuentos El jardín japonés (Páginas de Espuma, 2007) y La Señora Rojo (Páginas de Espuma, 2010).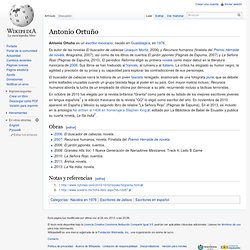 antonio ortuño
Index page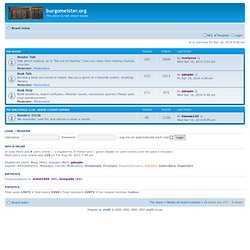 It is currently Tue Apr 02, 2013 6:09 pm Reader Talk Talk about reading: as in "the act of reading"; how you read; how reading impacts your life. Moderator: Moderators 140 Topics 2384 Posts Last post by bottledbrain Sun Mar 31, 2013 5:59 pm Book Talk Review a book you loved or hated; discuss a genre or a favorite author; anything literary.
Mla Handbook Ebook Download
Count Synonyms, Count Antonyms
All fields of research agree on the need to document scholarly borrowings, but documentation conventions vary because of the different needs of scholarly disciplines. MLA style for documentation is widely used in the humanities, especially in writing on language and literature. Generally simpler and more concise than other styles, MLA style features brief parenthetical citations in the text keyed to an alphabetical list of works cited that appears at the end of the work. MLA style has been widely adopted by schools, academic departments, and instructors for over half a century.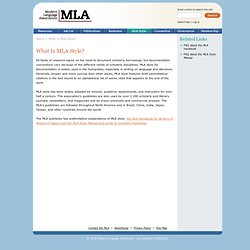 What Is MLA Style?
Red Mundial de Escritores en Español: REMES
Turing test
The "standard interpretation" of the Turing Test, in which player C, the interrogator, is tasked with trying to determine which player - A or B - is a computer and which is a human. The interrogator is limited to using the responses to written questions in order to make the determination. Image adapted from Saygin, 2000.
Faber Finds and Cool Covers
Faber Finds is a new list of POD (Print on Demand) titles from Faber the distinguished London publisher which revives titles buried in their extensive list of out of print titles.
Escritores.org - Recursos para escritores
by Carol A.
Changes to MLA Handbook – 7th Edition « Improve Your Writing with Papercheck
El caligrama es un poema, frase o palabra cuyo propósito es formar una figura acerca de lo que trata el poema, en la cual la tipografía, caligrafía o el texto manuscrito se arregla o configura de tal manera que crea una especie de imagen visual ( poesía visual ). La imagen creada por las palabras expresa visualmente lo que la palabra o palabras dicen. En un poema, este manifiesta el tema presentado por el texto del poema.
Caligrama
The Write Place » Blog Archive » Letter Writing: The 7 Deadly Sins…
La imposible definición de Monsiváis - La Jornada
Alejandro Aura
LA FAMA FATAL
よしもとばなな公式サイト | トップページ
BANANA YOSHIMOTO OFFICIAL SITE | TOP
El Universal - Columnas
JORDI SOLER ESCRITOR