BARROCO
Barocco
Da Wikipedia, l'enciclopedia libera. Il barocco è il termine utilizzato per indicare un movimento culturale nato a Roma , in Italia , costituito dalla letteratura , dalla filosofia , dall' arte e dalla musica barocca, caratteristiche del XVII secolo e dei primi decenni del XVIII secolo . Per estensione, si indica quindi col nome «barocco» il gusto legato alle manifestazioni artistiche di questo periodo, in particolare quelle più legate all'estrosità e alla fantasia. Tuttavia, da un punto di vista artistico, questa epoca è percorsa anche da una corrente classicista e in generale il linguaggio classico rimane il punto di riferimento comune degli artisti di ogni tendenza.
Category:Italian composers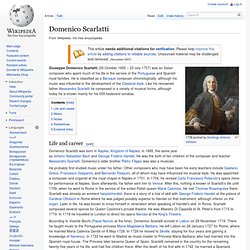 Giuseppe Domenico Scarlatti (26 October 1685 – 23 July 1757) was an Italian composer who spent much of his life in the service of the Portuguese and Spanish royal families. He is classified as a Baroque composer chronologically, although his music was influential in the development of the Classical style . Like his renowned father Alessandro Scarlatti he composed in a variety of musical forms, although today he is known mainly for his 555 keyboard sonatas. [ edit ] Life and career Domenico Scarlatti was born in Naples , Kingdom of Naples , in 1685, the same year as Johann Sebastian Bach and George Frideric Handel .
Domenico Scarlatti
www.imusici.info
K. Heller. Antonio Vivaldi: The Red Priest of Venice. 1997
Bach and Baroque Music CDs Catalogue. 100+ titles.
Giuseppe Domenico Scarlatti was born in Naples on October 26th, 1685. The high rank of his godparents is proof of the esteem in which his father, Alessandro Scarlatti, was held as maestro di cappella . Domenico's musical gifts developed with an almost prodigious rapidity. At the age of sixteen he became a musician at the chapel royal, and two years later father and son left Naples and settled in Rome, where Domenico became the pupil of the most eminent musicians in Italy. The originality of Bernardo Pasquini"s inventions and his skill in elaborating them, and Francesco Gasparini's solid science and intense vitality united to form the basis on which Domenico developed his own genius.
Domenico Scarlatti: a concise biography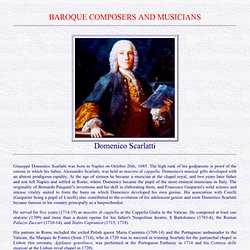 Il Capolavoro di Francesco Borromini: San Carlo alle quattro fontane
(SCORE) Allegri - Miserere Mei -ssatb,t,ssab-
VG: Sacred Music in the Seicento
Although the Roman school kept up the old a capella tradition, Italy was also the country in which the new musical style, nuove musiche, emerged. One of the first important collection of church music at the turn of the 17th century was Viadana 's Cento concerti ecclesiastici of 1602. Viadana was not the only composer to write both secular and sacred music: most opera composers of the time, such as Carissimi, Monteverdi, Cavalli , and Legrenzi , also wrote church music. Others, however, such as Francesco Durante almost exclusively composed church music. A work by Orazio Benevoli , a 53 part mass from the year 1628 reflects another tradition as a continuation and expansion of the Venetian technique and represents the Baroque principle of the grandiose. The stylistic duality of the early 17th century found expression in the so-called prima prattica and seconda prattica.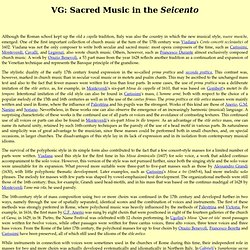 Art Renewal Center - 404 Not Found
Italian art: The Baroque Period
Tomaso Antonio Vitali- Bio, Albums, Pictures – Naxos Classical Music.
A violinist and composer, son of Giovanni Battista Vitali, a string-player and singer at Bologna and then in the service of the Este family in Modena, Tomaso Antonio Vitali became leader of the Este orchestra, with which he seems to have maintained a connection from 1675 until 1742. He left trio sonatas in the style of Corelli, but it is now thought that the Chaconne attributed to him, a well known part of violin repertoire in various guises, was not his work.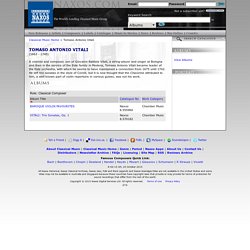 Carracci
Agostino Carracci An Italian painter , engraver, and etcher, b. at Bologna , 16 August, 1557; d. at Parma , 22 March, 1602. The son of Antonio Carracci, a tailor, he was nephew of Lodovico and brother of Annibale . He began his art life as a goldsmith; but, urged by his uncle, the youth abandoned plastic for graphic art, and studied painting , first with Fontana , who had been Lodovico's master, and later with Passerotti. The fame of Correggio's masterpieces drew Agostino to Parma , and afterwards, accompanied by Annibale , he made a long sojourn in Venice , where he became a distinguished engraver under the celebrated Cort. In 1589 he and his brother returned to Bologna and with Lodovico started the "School of the Carracci" (see below, L ODOVICO ), in which he taught while working devotedly at painting .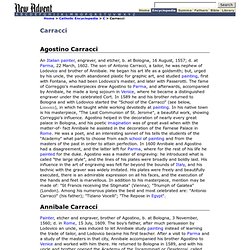 A Baroque Banquet
Baroque Composers – Overview, individual biographies
The Italian composer and violinist Arcangelo Corelli exercised a wide influence on his contemporaries and on the succeeding generation of composers. Born in Fusignano, Italy, in 1653, a full generation before Bach or Handel, he studied in Bologna, a distinguished musical center, then established himself in Rome in the 1670s. By 1679 had entered the service of Queen Christina of Sweden, who had taken up residence in Rome in 1655, after her abdication the year before, and had established there an academy of literati that later became the Arcadian Academy. Thanks to his musical achievements and growing international reputation he found no trouble in obtaining the support of a succession of influential patrons. History has remembered him with such titles as "Founder of Modern Violin Technique," the "World's First Great Violinist," and the "Father of the Concerto Grosso." His contributions can be divided three ways, as violinist, composer, and teacher.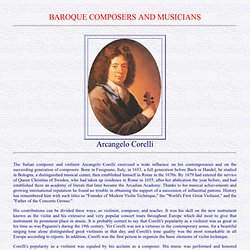 Arcangelo Corelli: a concise biography
Cultura Barocca ricerche e volumi rari
La Serenissima play these Italian violin concertos with unrestrained joy on a thoroughly enjoyable CD. Published on January 30, 2009 "The Rise of the North Italian Violin Concerto: 1690-1740, vol. 3"- Music of TARTINI, VIVALDI, LOCATELLI, SAMMARTINI – La Serenissima/ Adrian Chandler – Avie AV 2154, 79:35 ***** [Distr. by Forte]: This CD features several examples of the northern Italian violin concerto as composed during the years 1690-1740. This was truly the violin's golden age in Italy.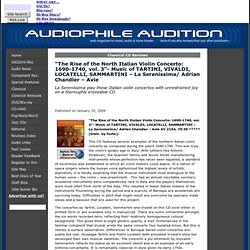 "The Rise of the North Italian Violin Concerto: 1690-1740, vol. 3"- Music of TARTINI, VIVALDI, LOCATELLI, SAMMARTINI – La Serenissima/ Adrian Chandler – Avie - Audiophile Audition
Arcangelo Corelli
Italian composer and violinist. Corelli was the fifth child born to a prosperous family of landowners; his initial musical study was probably with the local clergy, then in nearby Lugo and Faenza, and finally in Bologna, where he went in 1666. His studies there were with Giovanni Benvenuti and Leonardo Brugnoli, the former representing the disciplined style of the Accademia filarmonica (to which Corelli was admitted in 1670), the latter a virtuoso violinist.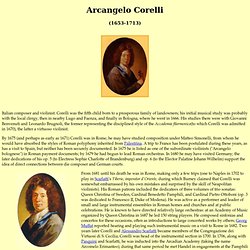 The English word baroque is derived from the Italian barocco , meaning bizarre , though probably exuberant would be a better translation more accurately reflecting the sense. The usage of this term originated in the 1860s to describe the highly decorated style of 17th and 18th century religious and public buildings in Italy, Germany and Austria, as typified by the very baroque angelic organist adorning the Gottfried Silbermann organ completed in 1714 for the Cathedral in Freiberg, Saxony (illustrated above). Later, during the early-to-mid 1900s, the term baroque was applied by association to music of the 17th and early 18th century, and today the term baroque has come to refer to a very clearly definable type or genre of music which originated, broadly speaking, around 1600 and came to fruition between 1700 and 1750. Listen to music of the 1200s and 1300s.
BAROQUE MUSIC DEFINED
Django site Users