Vivienda vertical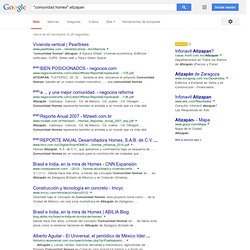 About this page Our systems have detected unusual traffic from your computer network. This page checks to see if it's really you sending the requests, and not a robot. Why did this happen? This page appears when Google automatically detects requests coming from your computer network which appear to be in violation of the Terms of Service.
"comunidad homex" atizapan
8 Spruce Street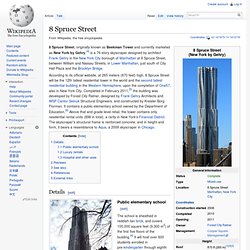 8 Spruce Street, originally known as Beekman Tower and currently marketed as New York by Gehry,[4] is a 76-story skyscraper designed by architect Frank Gehry in the New York City borough of Manhattan at 8 Spruce Street in Lower Manhattan, just south of City Hall Plaza and the Brooklyn Bridge.
La escasez de tierra y su elevado costo, la falta de servicios públicos y de vías de comunicación accesibles, dirigen los esfuerzos a promover e incentivar programas de re-densificación y apoyo a la construcción de vivienda vertical como tarea fundamental, para que todos los que formamos la industria de la vivienda nos preparemos y cambiemos hacia paradigmas que contribuyan a una mejor racionalización de la tierra, a mejores tipos de viviendas al que debemos migrar, para atender la demanda y dotar de una vivienda a los trabajadores de más bajos recursos. Mayor tiempo para disfrutar la compañía de familiares y amigos a través de actividades recreativas, deportivas y culturales. La convivencia con diversos grupos de personas e intercambiar sus conocimientos culturales; propiciando una mejor estabilidad social. Menor tiempo de traslado al centro de trabajo y menor costo. Mayor estabilidad social y mayor seguridad.
Vivienda económica
Edificios verticales
節電のために、この夏は東京のどこでもグリーン・ウォール「垂直の庭」が作られています。混雑して、背が高い都市では、垂直の表面のほうが屋根より多いです。まず、杉並区役所とマンションのベランダでグリーン・カーテンが作られました。今、事務所や店の建物で、グリーン・ウォ―ルを作りはじめました。夏にグリーン・カーテンはヒートアイランド現象の緩和のために良くて、一年中、グーリン・ウォールは庭や農園や生息地を提供します。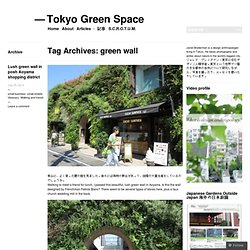 green wall « Tokyo Green Space