3dp Food
Chocolate 3D Printing. The project is funded as part of the Research Council UK Cross-Research Council Programme – Digital Economy and is managed by the Engineering and Physical Sciences Research Council (EPSRC) on behalf of ESRC, AHRC and MRC.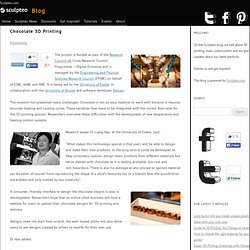 It is being led by the University of Exeter in collaboration with the University of Brunel and software developer Delcam. The research has presented many challenges. Chocolate is not an easy material to work with because it requires accurate heating and cooling cycles. These variables then have to be integrated with the correct flow rates for the 3D printing process. Chocolate 3D Printing. Cornucopia. Fabaroni: a homemade 3D printer. The Fabaroni is a 3D printing machine that constructs 3D models with pasta dough.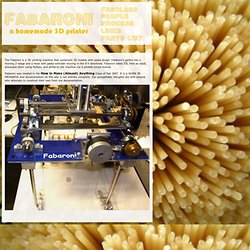 Fabaroni's gantry has a moving Z-stage and a head with pasta-extruder moving in the X-Y directions. Fabaroni takes STL files as input, processes them using Python, and prints to the machine via 6 printed circuit boards. Fabaroni was created in the How to Make (Almost) Anything Class of Fall 2007. It is a WORK IN PROGRESS and documentation on this site is not entirely complete. Our sympathetic thoughts are with anyone who attempts to construct their own from our documentation. Fabaroni: a pasta 3D printer made from scratch. Fabaroni was a project from the How to Make (Almost) Anything Class of Fall 2007 (MIT) who decided to build a 3D Printer from scratch.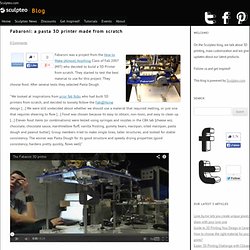 They started to test the best material to use for this project. They choose food. After several tests they selected Pasta Dough. "We looked at inspirations from prior fab folks who had built 3D printers from scratch, and decided to loosely follow the Fab@Home design [...] Printing Food With 3D Printers. This is the result of what happens when you mix engineers with a culinary school.
Using 3D printers, the New York City-based French Culinary Institute, teamed with the computational synthesis laboratory at Cornell University, have constructed edible objects using pureed foods in place of ink. What did they make? Miniature space shuttles made of ground scallops and cheeseInteresting crispy corn snacks made from squiggly patternsEverything from chocolate, cheese and hummus to scallops, turkey, and celery. 3D Printing Potatoes With The RapMan - Fabbaloo Blog - Fabbaloo. The folks at Bits From Bytes are experimenting with Food Printing, which seems to be a growing area of interest for hungry 3D print operators.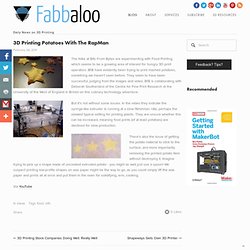 BfB have evidently been trying to print mashed potatoes, something we haven't seen before. They seem to have been successful, judging from the images and video. BfB is collaborating with Deborah Southerland of the Centre for Fine Print Research at the University of the West of England in Bristol on this culinary technology adventure. But it's not without some issues. In the video they indicate the syringe-like extruder is running at a slow 16mm/sec rate, perhaps the slowest typical setting for printing plastic. 3D Candy Printing: An Interview with Designer Marcelo Coelho - Food. Three-dimensional printers are getting a lot of hype at the moment.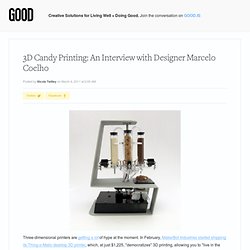 In February, MakerBot Industries started shipping its Thing-o-Matic desktop 3D printer, which, at just $1,225, "democratizes" 3D printing, allowing you to "live in the cutting-edge personal manufacturing future of tomorrow! " The same month, the typically restrained Economist headlined a story "Print me a Stradivarius: How a New Manufacturing Technology Will Change the World. " Business Insider even called it "The Next Trillion Dollar Industry. " The idea, for those of you who aren't familiar with it, is pretty simple. Cornucopia: Digital Gastronomy - could 3D printing be the next revolution in cooking? Wouldn't it be great to have a digital food machine sitting in your kitchen that could create any dish, real or imagined, from scratch at the touch of a button?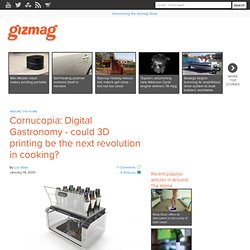 Cornucopia: Digital Gastronomy is a concept design that uses the well-established principles of 3D printing - plus precisely timed and temperature-controlled mixing and cooking - to open the door to a virtually limitless realm of replicable, creative cuisine in shapes and combinations that are simply impossible using our current, centuries-old cooking techniques. It's a wonderful look into the future of cooking, from the creative food lover's perspective. Printing Food. For More up to date information please contact Seraph Robotics Project Members: Jeffrey Lipton Past Members: Evan Malone.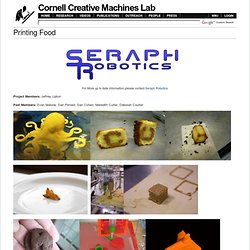 The Revolution will be Caramelized - The CandyFab Project. 3D Printing Icing and Cookie Dough. This 3D printer makes edible food - Jan. 24. An experimental 3D food printer "prints" frosting on a cupcake.By Laurie Segall, staff reporterJanuary 24, 2011: 10:11 AM ET NEW YORK (CNNMoney) -- A 3D food printer sounds like something out of Star Trek, but it's not out of this world.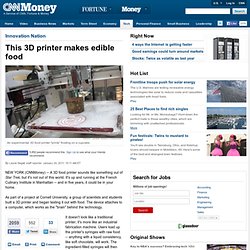 It's up and running at the French Culinary Institute in Manhattan -- and in five years, it could be in your home. As part of a project at Cornell University, a group of scientists and students built a 3D printer and began testing it out with food.
---