Agences web
Pod1
Your Majesty
Johnnie Walker has launched a new global 'Keep Walking' integrated campaign fronted by its latest 'From the Future' spot via BBH London. This week marks the launch of major new brand work for Johnnie Walker globally and the evolution of our iconic "Keep Walking" campaign. The integrated campaign kicked off with a social content platform, #NextStep, which sees Johnnie Walker filtering the web to provide a globally curated feed of content; a service designed to inspire our communities and help them move forward on a daily basis.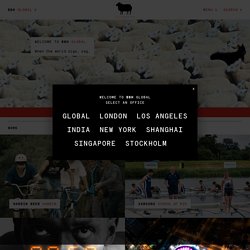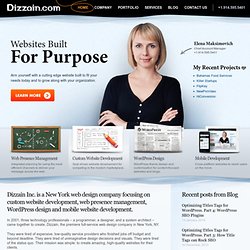 Arm yourself with a cutting edge website built to fit your needs today and to grow along with your organization. Learn more Elena Maksimovich Chief Account Manager +1.914.595.5401
Dizzain.com
Disturbmedia
Jason Santa Maria Wayne Hemingway Jessica Hische Jon Tan Stephanie Troeth Tiago Pedras Tyler Mincey Seb Lee-Delisle Michael Heilemann Andy Clarke Sarah Parmenter Steph Hay »Single-track conference with eight inspiring talks from renowned speakers and new voices »Half-day and full-day workshops covering iOS design, responsive layout, content, trust, and more besides »A third edition of our wonderful newspaper printed by The Guardian »The infamous Erskine Bowling night and early badge pick-up »Second Wednesday warmup with guest speakers »Our legendary after–party at Alea Casino »Photowalk with Dan Rubin and Naomi Atkinson »Friendly 5-a-side-football tournament open to all »...and much more besides! "The amount of love that goes into the event is obvious.
Newadventuresconference