Tex-exemples
home › typography › latex Latest update 4 July 2011 Code and examples uploaded to GitHub . There are several reasons why one should prefer L a T e X to a WYSIWYG word processor like Microsoft Word: portability, lightness, security are just a few of them (not to mention that L a T e X is free ). There is still a further reason that definitely convinced me to abandon MS Word when I wrote my dissertation: you will never be able to produce professionally typeset and well-structured documents using most WYSIWYG word processors. L a T e X is a free typesetting system that allows you to focus on content without bothering about the layout: the software takes care of the actual typesetting, structuring and page formatting, producing documents of astonishing elegance.
Dario Taraborelli: The Beauty of LaTeX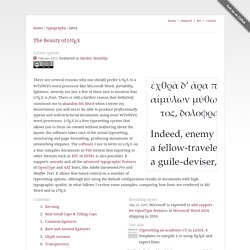 Galerie Beamer
LaTeX [xavier.perseguers.ch]
LaTeX est l'arme absolue de la P.A.O. ( publication assistée par ordinateur ).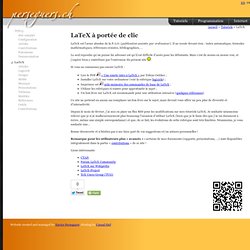 Formation LaTeX - fr.narkive.com
Salut,
Quickies > LaTeX