The Randoms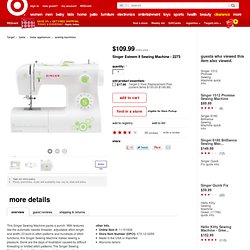 This Singer Sewing Machine packs a punch. With features like the automatic needle threader, adjustable stitch length and width, 23 built-in stitch patterns and hundreds of stitch functions, this Singer Sewing Machine makes sewing a pleasure. Gone are the days of frustration caused by difficult threading or limited stitch patterns. The Singer Sewing Machine offers just the right amount of convenient features without being overwhelming to the beginner sewer.
Singer Esteem II Sewing Machine - 2273
Recent Design Inspirations
I'm not usually into pomp and show but boy is this video by Eric Horner incredible. Sometimes you just gotta acknowledge your own power and give yourself a kick in the but to do what you've gotta do. This video includes scenes from one of my favorite movies "Snatch" with audio from Muhammad Ali and Rocky and a music soundtrack spliced from the Transformer's movie and Gladiator (another one of my favorites!).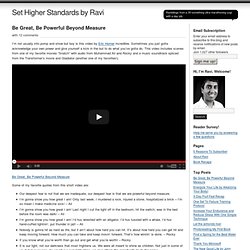 Be Great, Be Powerful Beyond Measure « Set Higher Standards by YogiRavi
Gilbert's Gazelles - Austin, Texas Running Group