The Randoms
Singer Esteem II Sewing Machine - 2273
Little known fact: Recruiters spend six seconds before making an initial "fit/no fit" decision... The 6-second-rule is a discovery which came from an eye-tracking study that observed 30 professional recruiters during a 10-week period. The study found recruiters had an erratic "gaze-path" when reviewing an average resume.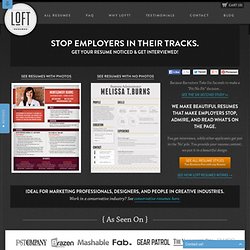 Recent Design Inspirations
Be Great, Be Powerful Beyond Measure « Set Higher Standards by YogiRavi
Check Out These Favorites: Marathon/Half Marathon Prep ClassBeginner Gazelles 2014High School/Middle School Summer 2014Destination Marathon/Half 2014: Portland Run With The Lion Do you want to qualify for the Boston Marathon? Run your first 5K?
Gilbert's Gazelles - Austin, Texas Running Group