Newspapers
Newspapers Build Digital Portfolios - Ad Age
A prejudice (and a prayer) for the power of the newsroom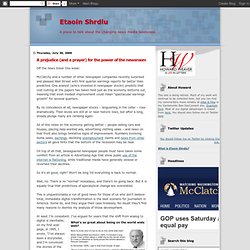 Off the news ticker this week: McClatchy and a number of other newspaper companies recently surprised and pleased Wall Street with first quarter earnings reports far better than predicted. One analyst (who's invested in newspaper stocks) predicts that cost-cutting at the papers has taken hold just as the economy bottoms out, meaning that even modest improvement could mean "spectacular earnings growth" for several quarters. By no coincidence at all, newspaper stocks – languishing in the cellar – rose dramatically.
by Umair Haque | 9:53 AM July 30, 2009 Thanks to everyone who responded to or commented on my Nichepaper Manifesto. The caliber of comments and responses was awesome.
The Nichepaper and the Failure of the Fourth Estate - Umair Haqu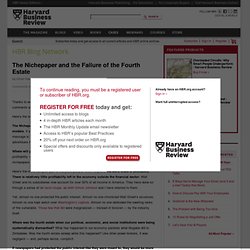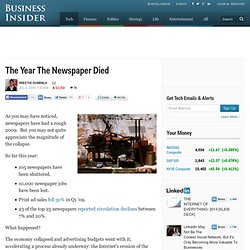 As you may have noticed, newspapers have had a rough 2009. But you may not quite appreciate the magnitude of the collapse. So far this year: 105 newspapers have been shuttered.10,000 newspaper jobs have been lost.Print ad sales fell 30% in Q1 '09.23 of the top 25 newspapers reported circulation declines between 7% and 20%.
The Year The Newspaper Died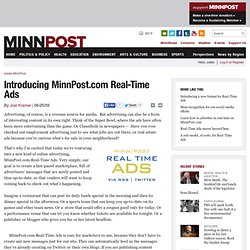 Introducing MinnPost.com Real-Time Ads
Advertising, of course, is a revenue source for media. But advertising can also be a form of interesting content in its own right. Think of the Super Bowl, where the ads have often been more entertaining than the game. Or Classifieds in newspapers -- Have you ever checked out employment advertising just to see what jobs are out there, or real estate ads because you're curious what's for sale in your neighborhood? That's why I'm excited that today we're venturing into a new kind of online advertising, MinnPost.com Real-Time Ads.
At the end of May, I was enjoying a nice Sunday afternoon reading my paper, trying not to think about work, when I came across Tim Rutten's column, "How the Obama administration can save newspapers." And I sighed, because apparently newspapers need a license to collude to solve their "search engine" problem. If they can't all agree to block Google & Gang unless paid a pre-determined price, we're going to lose them. I could have dived in and done yet another dissection of things I disagreed with, but I figured what the heck. I'll write to Tim and see if I can get a conversation going. It's been over a week and counting.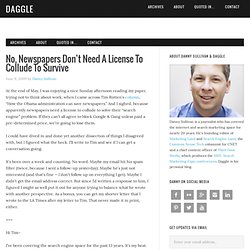 No, Newspapers Don't Need A License To Collude To Survive