Blackberry
Up next, the mobile decade. Michael Jones spends a lot of his time reading the proverbial technology tea leaves.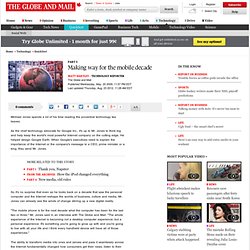 As the chief technology advocate for Google Inc., it's up to Mr. Jones to think big and help keep the world's most powerful Internet company on the cutting edge. He helped design Google Earth. When Google's executives need to explain the importance of the Internet or the company's message to a CEO, prime minister or a king, they send Mr. iPhone wannabes: LG Voyager and Blackberry 9k. Have you seen the new crop of iPhone wannabes?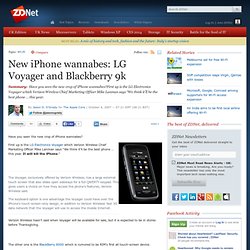 First up is the LG Electronics Voyager which Verizon Wireless Chief Marketing Officer Mike Lanman says "We think it'll be the best phone … this year. It will kill the iPhone." The Voyager, exclusively offered by Verizon Wireless, has a large external touch screen that also slides open sideways for a full QWERTY keypad. This gives users a choice on how they access the phone's features, Verizon Wireless said. The keyboard option is one advantage the Voyager could have over the iPhone's touch-screen-only design, in addition to Verizon Wireless' fast 3G data network that the Voyager will use to access the mobile Internet. Built for BlackBerry | Download Apps. Who Will Be Your Web Office Provider?
I want to replace both my Windows laptop and my Blackberry with an iPhone.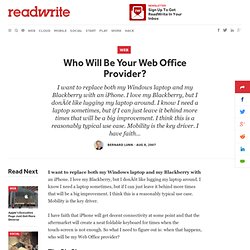 I love my Blackberry, but I don't like lugging my laptop around. I know I need a laptop sometimes, but if I can just leave it behind more times that will be a big improvement. [video] Introducing the BlackBerry Pearl.
---