Todo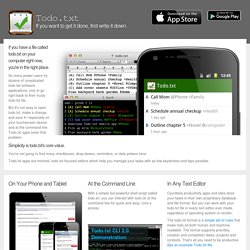 On Your Phone and Tablet Your todo.txt file isn't useful if it's not always at your fingertips. The Todo.txt mobile apps make it easy to view and update your tasks on the go. Currently connected to Dropbox, Todo.txt Touch helps you manage your todo.txt on your touchscreen mobile device and automatically syncs your changes to all your computers. iPhone, iPod touch, and iPad users:
Todo.txt - Task tracking for command line lovers
What makes voo2do different? Unlike most online to-do lists, voo2do tracks priority, due date, and time estimates for each task. There is no notion of "lists" in voo2do— tasks can be grouped by project, but you can view and edit a bunch of projects together.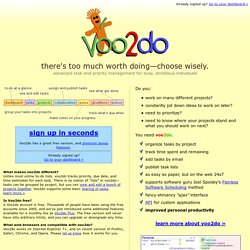 Painless Software Schedules
by Joel Spolsky Wednesday, March 29, 2000 This article is obsolete. Over the years, I've learned a lot more about schedules and estimates.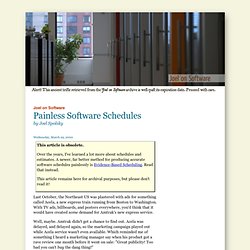 Time Tracker - a Time Management Solution Save in progress... Time Tracker is a simple tool to keep track of the time you spend on any task. Think of it as a to-do-list with a clock. And yes, it's free . Need to Create Web Forms?