Tips
<div style="padding:5px; font-size:80%; width:300px; background-color:white; margin-left:auto; margin-right:auto; border:1px dashed gray;"> Internet Archive's<!--'--> in-browser video player requires JavaScript to be enabled. It appears your browser does not have it turned on. Please see your browser settings for this feature.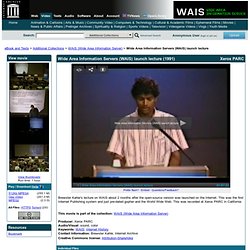 Internet Archive: Details: Wide Area Information Servers (WAIS) launch lecture
Many times you will need to create a workbook that is made up of two or more identical sheets. Many Excel users create each worksheet from scratch. Others, insert a new worksheet and copy and paste using the original worksheet.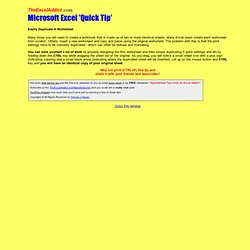 Easily Duplicate A Worksheet - FREE Microsoft Excel Spreadsheet Tips and Tutorials
inShare91 What is a Twitter hashtag? A hashtag is a way to unite global Tweets around some particular topic. Basically, these are tags that that help those who seek similar content discover your Tweets. According to the official source: Hashtags are a community-driven convention for adding additional context and metadata to your tweets.