LAMP
Howto backup your WordPress-Blog and MySQL-data with AppleScript on MacOS X
PHPmac - The Largest Online Resource Totally Dedicated to Mac Users of PHP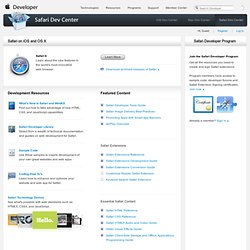 Safari 6 Learn about the new features in the world's most innovative web browser. Development Resources Sample Code Use these samples to inspire development of your own great websites and web apps. Coding How-To's
MySQL on Mac OS X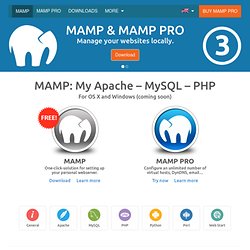 MAMP installs a local server environment in a matter of seconds on your Mac OS X computer, be it MacBook or iMac. Like similar packages from the Windows- and Linux-world, MAMP comes free of charge, and is easily installed. MAMP will not compromise any existing Apache installation already running on your system.
by webEdition
LAMP Web development
by Tony Steidler-Dennison Why LAMP tools? For the entire life of the World Wide Web, the backbone that's kept it upright are the tools of Linux. Linux, Apache, MySQL, PHP, Perl, and Python — collectively known as LAMP — comprise more than two-thirds of the servers, databases, and scripting languages on the web today. It's getting more difficult each day to be a web developer without knowledge and at least a rudimentary level of skill with these tools. What's the attraction to LAMP tools for developers around the world?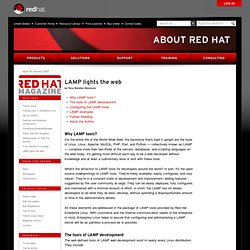 ONLamp.com
Valuable Online Certification Training Earn a Certificate for Professional Development from the upon completion of each online certificate program. Linux/Unix System Administration Certificate Series — This course series targets both beginning and intermediate Linux/Unix users who want to acquire advanced system administration skills.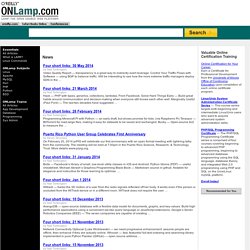 Andy Budd::Blogography: The no hassle guide to installing PHP and MySQL on OS X 10.3