Ical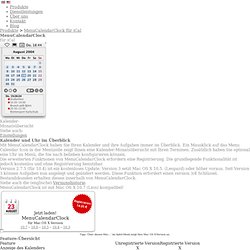 for iCal Menubar Calendar and Clock MenuCalendarClock is an iCal compatible menu calendar and a configurable menu clock. Besides an elegant and streamlined look, it offers many compelling features to make it the ultimate calendaring utility for the Mac.
Software - MenuCalendarClock for iCal
open-source institutional events calendar
Bedework is an open-source enterprise calendar system that supports public, personal, and group calendaring. It is designed to conform to current calendaring standards with a goal of attaining strong interoperability between other calendaring systems and clients. Bedework is built with an emphasis on higher education, though it can be (and is) used by many commercial enterprises. You may choose to deploy Bedework for public events calendaring, personal calendaring and scheduling, or both. Bedework is built in Java and is suitable for embedding in other applications or in portals and has been deployed across a wide range of environments.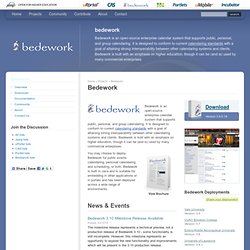 Geek to Live: Black belt scheduling with Google Calendar - Lifehacker
by Gina Trapani Click to view Web-based calendars have been around for ages, but one year ago Google Calendar came onto the scene and changed the game. Once upon a time Yahoo! Calendar had my heart , but today Y!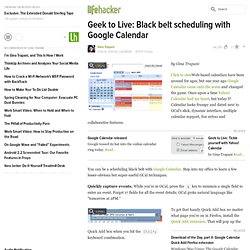 Calendar - Brochures & Presentations
Trumba - Website Calendars - Event Calendars
Spongecell
Interesting Google Calendars
30 Boxes
Support - Mac OS X - iCal