Ibm
Social Computing Guidelines. In the spring of 2005, IBMers used a wiki to create a set of guidelines for all IBMers who wanted to blog.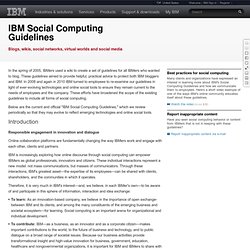 These guidelines aimed to provide helpful, practical advice to protect both IBM bloggers and IBM. In 2008 and again in 2010 IBM turned to employees to re-examine our guidelines in light of ever-evolving technologies and online social tools to ensure they remain current to the needs of employees and the company. These efforts have broadened the scope of the existing guidelines to include all forms of social computing. Below are the current and official "IBM Social Computing Guidelines," which we review periodically so that they may evolve to reflect emerging technologies and online social tools.
Introduction. Cloud Computing. Welcome to InnovationJam. In a world where innovation is global, multidisciplinary and open, you need to bring different minds and different perspectives together to discover new solutions to long-standing problems.
Therein lies the essence of collaborative innovation. IBM's Jams and other Web 2.0 collaborative mediums are opening up tremendous possibilities for collaborative innovation — ways of working across industries, disciplines, and national borders. IBM's Jam Program Office manages and delivers the Jam for both internal and external use. For information, contact Liam Cleaver or Kristine Lawas . Liam Cleaver, program director, Jam program office, discusses Jams and how they can transform an enterprise.
---