Flex-ajax
OpenZoom: Promoting and Supporting High-Resolution Images & Zoomable User Interfaces (ZUIs) on the Web. Labs - Adobe Flex. Adobe® Flash®-based technologies are surrounded by an established ecosystem of support programs, business partners, and enthusiastic user communities.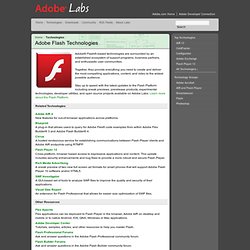 Together, they provide everything you need to create and deliver the most compelling applications, content, and video to the widest possible audience. Stay up to speed with the latest updates to the Flash Platform including sneak previews, prerelease products, experimental technologies, developer utilities, and open source projects available on Adobe Labs. Flex cookbook beta. Flex.org - Rich Internet Application Development.
Adobe Flex. Apache Flex, formerly Adobe Flex, is a software development kit (SDK) for the development and deployment of cross-platform rich Internet applications based on the Adobe Flash platform.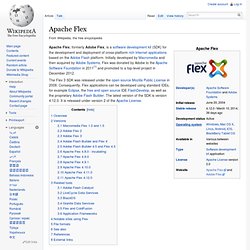 Initially developed by Macromedia and then acquired by Adobe Systems, Flex was donated by Adobe to the Apache Software Foundation in 2011[1] and promoted to a top-level project in December 2012. Overview[edit] Flex Framework:FABridge - Adobe Labs. Monkey Bites.
---