Collaborative_communications
Sharing stories about wikis the Pecha Kucha way. I recently had the pleasure of attending an event organized by Karen Huffman the Senior Applications & Database Administrator, Information Systems & Technology at the National Geographic Society.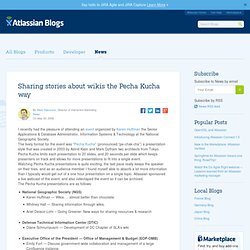 The lively format for the event was "Pecha Kucha" (pronounced "pe-chak-cha") a presentation style that was created in 2003 by Astrid Klein and Mark Dytham two architects from Tokyo. Pecha Kucha limits each presentation to 20 slides, and 20 seconds per slide which keeps presenters on track and allows for more presentations to fit into a single event. Watching Pecha Kucha presentations is quite exciting, the fast pace really keeps the speaker on their toes, and as an audience member I found myself able to absorb a lot more information than I typically would get out of a one hour presentation on a single topic. Atlassian sponsored a live webcast of the event, and also videotaped the event so it can be archived. The Pecha Kucha presentations are as follows:
IST Collaborative Tools. Collaboration has long been a key element of scholarly work, and that trend has accelerated in recent years.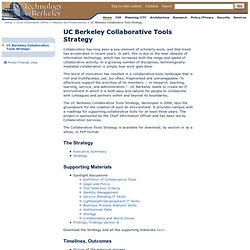 In part, this is due to the near ubiquity of information technology, which has increased both the range and speed of collaborative activity. In a growing number of disciplines, technologically-mediated collaboration is simply how work gets done. This burst of innovation has resulted in a collaborative tools landscape that is rich and multifaceted, yet, too often, fragmented and unmanageable. To effectively support the activities of its members -- in research, teaching, learning, service, and administration -- UC Berkeley needs to create an IT environment in which it is both easy and natural for people to collaborate with colleagues and partners within and beyond its boundaries. The UC Berkeley Collaborative Tools Strategy, developed in 2008, lays the groundwork for the creation of such an environment. Video collaboration, e-meeting and web conferencing on the Internet. Smart Mobs.
Blogumentary. Shield Bug Wizard Jul 15 10 at 12:27 AM | Link | Comments (0) Pants status Sent from my iPants Jun 11 10 at 12:33 AM | Link | Comments (0) Toki Wright = Chuck D.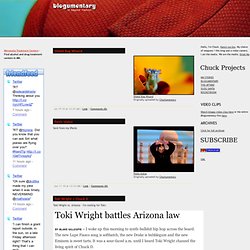 Plone. Plone is a free and open source content management system built on top of the Zope application server.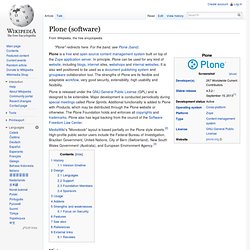 In principle, Plone can be used for any kind of website, including blogs, internet sites, webshops and internal websites. It is also well positioned to be used as a document publishing system and groupware collaboration tool. The strengths of Plone are its flexible and adaptable workflow, very good security, extensibility, high usability and flexibility. Plone is released under the GNU General Public License (GPL) and is designed to be extensible.
Flickr. Flickr (pronounced "flicker") is an image hosting and video hosting website, and web services suite that was created by Ludicorp in 2004 and acquired by Yahoo in 2005.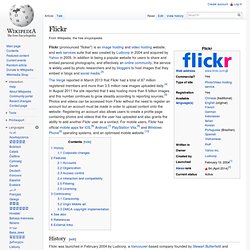 In addition to being a popular website for users to share and embed personal photographs, and effectively an online community, the service is widely used by photo researchers and by bloggers to host images that they embed in blogs and social media.[3] History[edit] Yahoo acquired Ludicorp and Flickr in March 2005. Social network. Social networks and the analysis of them is an inherently interdisciplinary academic field which emerged from social psychology, sociology, statistics, and graph theory.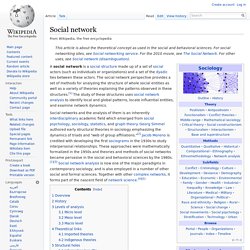 Georg Simmel authored early structural theories in sociology emphasizing the dynamics of triads and "web of group affiliations. "[2] Jacob Moreno is credited with developing the first sociograms in the 1930s to study interpersonal relationships. These approaches were mathematically formalized in the 1950s and theories and methods of social networks became pervasive in the social and behavioral sciences by the 1980s.[1][3] Social network analysis is now one of the major paradigms in contemporary sociology, and is also employed in a number of other social and formal sciences.
Together with other complex networks, it forms part of the nascent field of network science.[4][5] Social bookmarking. Delicious homepage in October 2012, an example of a social bookmarking website.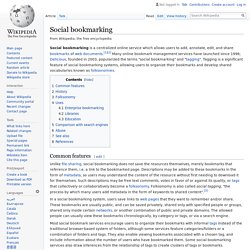 Common features[edit] In a social bookmarking system, users save links to web pages that they want to remember and/or share. These bookmarks are usually public, and can be saved privately, shared only with specified people or groups, shared only inside certain networks, or another combination of public and private domains.
The allowed people can usually view these bookmarks chronologically, by category or tags, or via a search engine. Many social bookmarking services provide web feeds for their lists of bookmarks, including lists organized by tags. Weblog. A blog (a truncation of the expression web log)[1] is a discussion or informational site published on the World Wide Web and consisting of discrete entries ("posts") typically displayed in reverse chronological order (the most recent post appears first).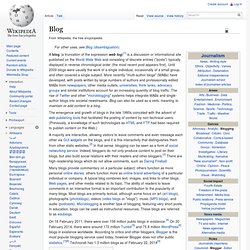 Until 2009 blogs were usually the work of a single individual, occasionally of a small group, and often covered a single subject. More recently "multi-author blogs" (MABs) have developed, with posts written by large numbers of authors and professionally edited. MABs from newspapers, other media outlets, universities, think tanks, advocacy groups and similar institutions account for an increasing quantity of blog traffic. The rise of Twitter and other "microblogging" systems helps integrate MABs and single-author blogs into societal newstreams. Wiki. A wiki ( i/ˈwɪki/ WIK-ee) is usually a web application which allows people to add, modify, or delete content in collaboration with others.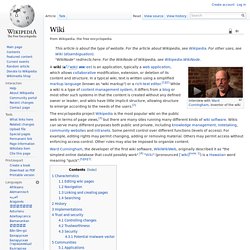 Text is usually written using a simplified markup language or a rich-text editor.[1][2] While a wiki is a type of content management system, it differs from a blog or most other such systems in that the content is created without any defined owner or leader, and wikis have little implicit structure, allowing structure to emerge according to the needs of the users.[2] Internet forum. An Internet forum powered by phpBB FUDforum, another Internet forum software package.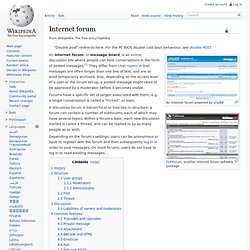 An Internet forum, or message board, is an online discussion site where people can hold conversations in the form of posted messages.[1] They differ from chat rooms in that messages are often longer than one line of text, and are at least temporarily archived. Also, depending on the access level of a user or the forum set-up, a posted message might need to be approved by a moderator before it becomes visible. What's a Wiki?
---