Collaborative_communications
Sharing stories about wikis the Pecha Kucha way
I recently had the pleasure of attending an event organized by Karen Huffman the Senior Applications & Database Administrator, Information Systems & Technology at the National Geographic Society. The lively format for the event was " Pecha Kucha " (pronounced "pe-chak-cha") a presentation style that was created in 2003 by Astrid Klein and Mark Dytham two architects from Tokyo. Pecha Kucha limits each presentation to 20 slides, and 20 seconds per slide which keeps presenters on track and allows for more presentations to fit into a single event. Watching Pecha Kucha presentations is quite exciting, the fast pace really keeps the speaker on their toes, and as an audience member I found myself able to absorb a lot more information than I typically would get out of a one hour presentation on a single topic. Atlassian sponsored a live webcast of the event, and also videotaped the event so it can be archived. The Pecha Kucha presentations are as follows: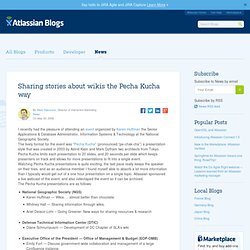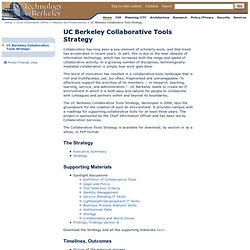 IST Collaborative Tools
Collaboration has long been a key element of scholarly work, and that trend has accelerated in recent years. In part, this is due to the near ubiquity of information technology, which has increased both the range and speed of collaborative activity. In a growing number of disciplines, technologically-mediated collaboration is simply how work gets done. This burst of innovation has resulted in a collaborative tools landscape that is rich and multifaceted, yet, too often, fragmented and unmanageable. To effectively support the activities of its members -- in research, teaching, learning, service, and administration -- UC Berkeley needs to create an IT environment in which it is both easy and natural for people to collaborate with colleagues and partners within and beyond its boundaries. The UC Berkeley Collaborative Tools Strategy, developed in 2008, lays the groundwork for the creation of such an environment.
video collaboration, e-meeting and web conferencing on the Internet
Shield Bug Wizard Jul 15 10 at 12:27 AM | Link | Comments (0) Pants status Sent from my iPants Jun 11 10 at 12:33 AM | Link | Comments (0) Toki Wright = Chuck D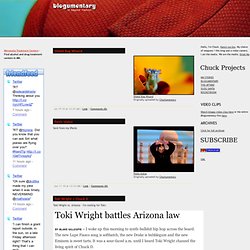 Blogumentary
Plone is a free and open source content management system built on top of the Zope application server . In principle, Plone can be used for any kind of website , including blogs , internet sites, webshops and internal websites . It is also well positioned to be used as a document publishing system and groupware collaboration tool. The strengths of Plone are its flexible and adaptable workflow , very good security, extensibility, high usability and flexibility. Plone is released under the GNU General Public License (GPL) and is designed to be extensible.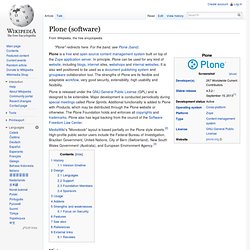 Plone
Flickr (stylized as flickr ) is an image hosting and video hosting website, web services suite, and online community that was created by Ludicorp in 2004 and acquired by Yahoo! in 2005. In addition to being a popular website for users to share and embed personal photographs, the service is widely used by bloggers to host images that they embed in blogs and social media . [ 1 ] Yahoo reported in June 2011 that Flickr had a total of 51 million registered members and 80 million unique visitors. [ 2 ] In August 2011 the site reported that it was hosting more than 6 billion images and this number continues to grow steadily according to reporting sources. [ 3 ] Photos and videos can be accessed from Flickr without the need to register an account but an account must be made in order to upload content onto the website.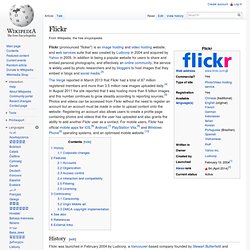 Flickr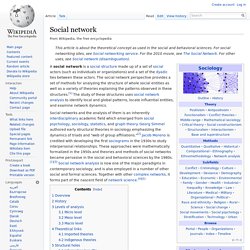 A social network is a social structure made up of a set of actors (such as individuals or organizations) and a complex set of the dyadic ties between these actors. The social network perspective provides a clear way of analyzing the structure of whole social entities. [ 1 ] The study of these structures uses social network analysis to identify local and global patterns, locate influential entities, and examine network dynamics.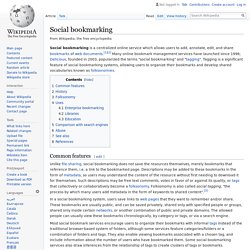 Delicious homepage in October 2012, an example of a social bookmarking website. A social bookmarking service is a centralized online service which enables users to add, annotate, edit, and share bookmarks of web documents. [ 1 ] Many online bookmark management services have launched since 1996; Delicious , founded in 2003, popularized the terms "social bookmarking" and " tagging ". Tagging is a significant feature of social bookmarking systems, enabling users to organize their bookmarks in flexible ways and develop shared vocabularies known as folksonomies . [ edit ] Common features Unlike file sharing , social bookmarking does not save the resources themselves, merely bookmarks that reference them, i.e. a link to the bookmarked page. Descriptions may be added to these bookmarks in the form of metadata , so users may understand the content of the resource without first needing to download it for themselves.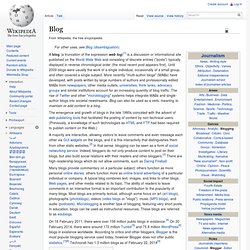 A blog (a portmanteau of the term web log ) [ 1 ] is a discussion or informational site published on the World Wide Web and consisting of discrete entries ("posts") typically displayed in reverse chronological order (the most recent post appears first). Until 2009 blogs were usually the work of a single individual, occasionally of a small group, and often covered a single subject. More recently "multi-author blogs" (MABs) have developed, with posts written by large numbers of authors and professionally edited. MABs from newspapers , other media outlets, universities , think tanks , interest groups and similar institutions account for an increasing quantity of blog traffic. The rise of Twitter and other " microblogging " systems helps integrate MABs and single-author blogs into societal newstreams.
A wiki ( i / ˈ w ɪ k iː / WIK -ee ) is a website which allows its users to add, modify, or delete its content via a web browser usually using a simplified markup language or a rich-text editor . [ 1 ] [ 2 ] [ 3 ] Wikis are powered by wiki software . Most are created collaboratively .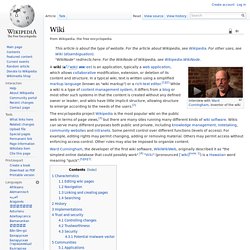 An Internet forum powered by phpBB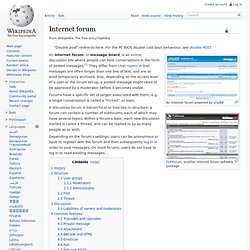 What's a Wiki?