JOBS
HOW TO WRITE A GOOD RESUME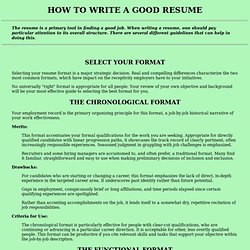 The resume is a primary tool in finding a good job. When writing a resume, one should pay particular attention to its overall structure. There are several different guidelines that can help in doing this. Selecting your resume format is a major strategic decision.
Resume Writing- Copy from Great Resumes
This article is part of a series called How to Write a Resume. To start this series from the beginning, read the introduction. I've used a few bad words in my life. S$it, you probably have too. But when the wrong words appear on your resume, it sucks. These sucky words are not of the four-letter variety.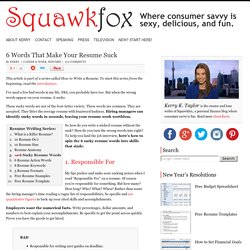 Internship and Career Center, UC Davis / Student / Internships / Resume Advice
Need help getting started writing a resume? Check out the resume samples below and for additional resume examples, see the Career Resource Manual. Resume #1 This resume is for a laboratory internship or career position with an applicant that has little or no laboratory experience. Resume #2 and #3
Internship and Career Center, UC Davis / Health and Biological Sciences / Sample Resumes