JOBS
HOW TO WRITE A GOOD RESUME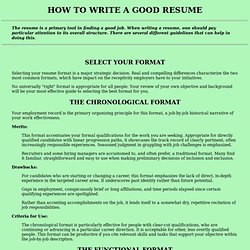 The resume is a primary tool in finding a good job. When writing a resume, one should pay particular attention to its overall structure. There are several different guidelines that can help in doing this. Selecting your resume format is a major strategic decision.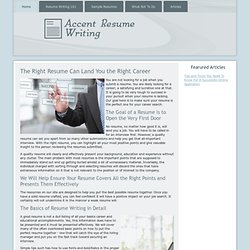 You are not looking for a job when you submit a resume. You are likely looking for a career; a satisfying and lucrative one at that. It is going to be very tough to succeed in your pursuit when your resume is lacking. Our goal here is to make sure your resume is the perfect one for your career search. The Goal of a Resume Is to Open the Very First Door No resume, no matter how good it is, will land you a job.
Resume Writing- Copy from Great Resumes
This article is part of a series called How to Write a Resume. To start this series from the beginning, read the introduction. I've used a few bad words in my life. S$it, you probably have too. But when the wrong words appear on your resume, it sucks. These sucky words are not of the four-letter variety.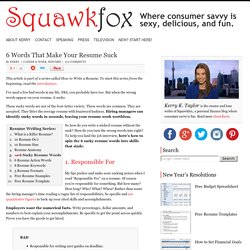 Internship and Career Center, UC Davis / Student / Internships / Resume Advice
Need help getting started writing a resume? Check out the resume samples below and for additional resume examples, see the Career Resource Manual. Resume #1 This resume is for a laboratory internship or career position with an applicant that has little or no laboratory experience. Resume #2 and #3
Internship and Career Center, UC Davis / Health and Biological Sciences / Sample Resumes