Tumblr
yehyehgrace
Fuck Yeah, Twilight Zone!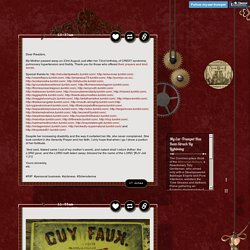 Plays: 261Artist: Loudon Wainwright IIIAlbum: The Squid & The WhaleTrack Name: The Swimming Song chautheknives: Swimming Song - Loundon Wainwright III This summer I went swimming, This summer I might have drowned But I held my breath and I kicked my feet And I moved my arms around, I moved my arms around. This summer I swam in the ocean, And I swam in a swimming pool, Salt my wounds, chlorine my eyes, I'm a self-destructive fool, a self-destructive fool.
My Ear-Trumpet Has Been Struck By Lightning
Rantings Of A Modern Day Glamour Girl
RETrOZONe
myvintagevogue
Surfing With The Alien
Hoodoo That Voodoo
Full image link → It's Friday yay!!Final day of my I.T course and the weekend beckons … Full image link → Illustration by Cheri HerouardFor La Vie ParisienneMay 1928 For my part, I prefer my heart to be broken. It is so lovely, dawn-kaleidoscopic within the crack. – D.