Anime Related
Space Dandy: First Impressions Anime Review by Michael Pinto When Shinichirō Watanabe's Cowboy Bebop came out in 1998 it really bought anime to the next level in terms of sophistication, which then in turn helped to usher in a new generation of American anime fans. So with many otaku (including myself) waiting for the next big thing from Watanabe, the level of expectations for Space Dandy are very high.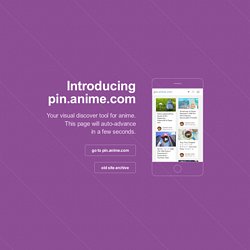 Anime.com February 2010: Mushi-Shi: The Movie, Heroic Age and Th
TV Tokyo aired a new commercial on Monday for the Wake Up, Girls! television anime series. In the commercial, the seven main characters note in unison that the series will premiere on the channel on January 10 at 1:23 a.m. In the story, Green Leaves Entertainment is a tiny production company on the verge of going out of business in Sendai, the biggest city in Japan's northeastern Tohoku region. The agency once managed the careers of magicians, photo idols, fortune-tellers, and other entertainers, but its last remaining client finally quit. In danger of having zero talent (literally), the president Tange hatches an idea of producing an idol group.