Jewelry making
The Beader's Muse - The Beader's Muse
Faux Bone Home
Chainmaille jumprings kits lessons tutorials supplies tools and more, Weaving chainmaille one jump ring at a time
Thai Hill Tribe Silver Fair Trade Jewelry and Components -- By Shiana.com
gim
Wired Up Beads
beading forum
http://www.allfreejewelrymaking.com/
Tutorials
Edit Article Edited by Adam, Bob Robertson, Flickety, Bo and 45 others Chainmail (aka: chainmaille, chain mail, chain maille, maille or mail) is made up of a pattern (called a weave) of interlocking rings. Because the design tends to spread the force of an edged weapon (a sword or axe, for example) over a wider area, chainmail was historically used as armor (see warnings below).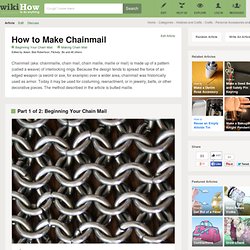 How to Make Chainmail (with pictures)
Do you have a quarter from 1964 or before? If you do, it is made of silver. You can turn that coin into a nice silver band using a spoon, a drill, and a metal file. A quarter will yield a small ring, size ~7 or less.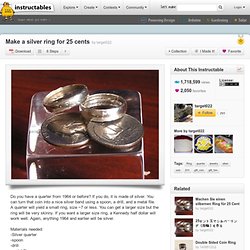 Free Projects
Newsletter, Bead-Patterns.com
Free Stuff!! ~ B'sue Boutiques ~ Vintage Jewelry Supplies
Chainmaille jumprings kits lessons tutorials supplies tools and more, Weaving chainmaille one jump ring at a time
Wire-Sculpture.com