Jewelry making
The Beader's Muse - The Beader's Muse
Faux Bone Home
Chainmaille jumprings kits lessons tutorials supplies tools and more, Weaving chainmaille one jump ring at a time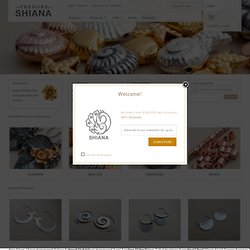 Login / Register Cart 0 Items | $ 0.00 Classic Shiana Fine Silver pendants and charms.
Thai Hill Tribe Silver Fair Trade Jewelry and Components -- By Shiana.com
gim
Wired Up Beads
beading forum
http://www.allfreejewelrymaking.com/
Tutorials
Edit Article Edited by Adam, Bob Robertson, Flickety, Bo and 45 others Chainmail (aka: chainmaille, chain mail, chain maille, maille or mail) is made up of a pattern (called a weave) of interlocking rings. Because the design tends to spread the force of an edged weapon (a sword or axe, for example) over a wider area, chainmail was historically used as armor (see warnings below).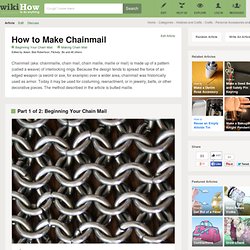 How to Make Chainmail (with pictures)
Do you have a quarter from 1964 or before? If you do, it is made of silver. You can turn that coin into a nice silver band using a spoon, a drill, and a metal file. A quarter will yield a small ring, size ~7 or less.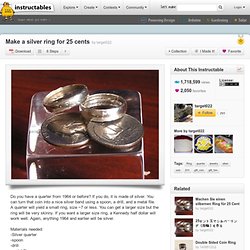 Welcome Beading Daily is a vibrant, online beading community where you'll find free beading projects, free beading stitch and jewelry making tutorials, expert advice, and information about the latest trends in beading and jewelry making. We look forward to having you join us! Bead Happy, Jennifer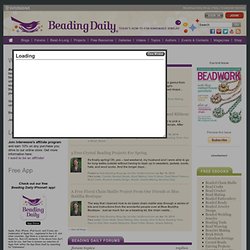 Free Projects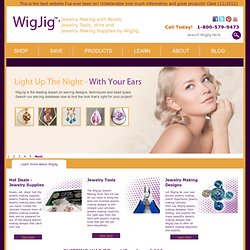 Welcome to the wonderful world of WigJig Jewelry Making! WigJig.com is your perfect resource for the most beautiful, elegant and fun jewelry making techniques, jewelry making supplies, wire jewelry making advice, jewelry making tools, jewelry making instructions videos and much, much more! Searching for one, particular technique for making jewelry that suits both your jewelry making skill level and your interest? Explore our WigJig Jewelry Making Learn section to discover clear and versatile jewelry making designs and WigJig patterns for:
Newsletter, Bead-Patterns.com
Stitch it In this series, host Katie Hacker, along with our amazing designers will twist it, weave it, tie it and design it – all techniques for creating fabulous jewelry. First, Katie shows that all you need is a needle and thread to stitch your way to beautiful detailing with an embellished leather cuff bracelet using blanket stitch. Jennifer Van Benschoten is next with bead embroidery on a block print. Finally, Jean Campbell demonstrates the flat and circular square stitch.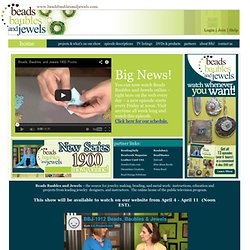 Free Stuff!! ~ B'sue Boutiques ~ Vintage Jewelry Supplies
Chainmaille jumprings kits lessons tutorials supplies tools and more, Weaving chainmaille one jump ring at a time
For years, Wire-Sculpture.com has been committed to helping people just like you become highly skilled wire jewelry artists who love their work! From Daily Wire Tip emails to fun Free Wire Jewelry Patterns, everything we do is for one purpose: helping you succeed and grow as a wire artist! If you're new to wire wrapping, you may be asking, "What exactly is wire wrapped jewelry?"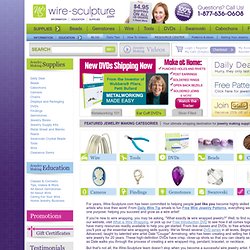 Wire-Sculpture.com