Jewelry making
The Beader's Muse - The Beader's Muse
Faux Bone Home
Chainmaille jumprings kits lessons tutorials supplies tools and more, Weaving chainmaille one jump ring at a time
Thai Hill Tribe Silver Fair Trade Jewelry and Components -- By Shiana.com
gim
Wired Up Beads
beading forum
http://www.allfreejewelrymaking.com/
Tutorials
Chainmail (aka: chainmaille, chain mail, chain maille, maille or mail) is made up of a pattern (called a weave) of interlocking rings. Because the design tends to spread the force of an edged weapon (a sword or axe, for example) over a wider area, chainmail was historically used as armor (see warnings below). Today it may be used for costuming, reenactment, or in jewelry , belts, or other decorative pieces. Fine chainmail is still used for suits that resist shark bites.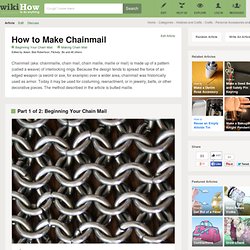 How to Make Chainmail (with pictures)
I was lucky enough to find two silver quarters in my change, but unless you are looking, you may not find one. Any quarter from 1964 and earlier should be silver. They are much lighter in color than newer quarters. I've read you can use the the sandwiched coins, but the metal is harder and it wouldn't be a silver ring.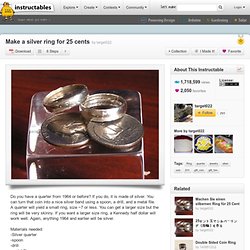 Free Projects
Newsletter, Bead-Patterns.com
Free Stuff!! ~ B'sue Boutiques ~ Vintage Jewelry Supplies
Chainmaille jumprings kits lessons tutorials supplies tools and more, Weaving chainmaille one jump ring at a time
Wire-Sculpture.com