Exercise/Fitness
7:30am: Time to make love | The Sun |Woman|Health|Health. A Butt Exercise Worth Doing. The Bridge Burner Workout Addition. | The Healthy PUSH. 7 Day Detox Plan. 7 Day Detox Plan A safe and sensible detox plan by Weight Loss Resource's Dietitian, Juliette Kellow.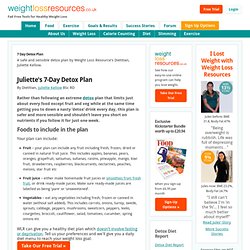 By Dietitian, Juliette Kellow BSc RD Rather than following an extreme detox plan that limits just about every food except fruit and veg while at the same time getting you to down a nasty 'detox' drink every day, this plan is safer and more sensible and shouldn't leave you short on nutrients if you follow it for just one week. Foods to include in the plan Your plan can include:
One hundred push ups. So, you've completed your initial test and you're keen to start the program?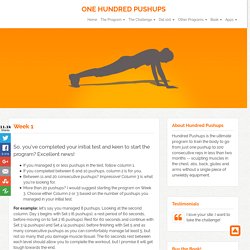 Great! If you managed 5 or less push ups in the test, follow column 1. If you completed between 6 and 10 push ups, column 2 is for you. Fitness Advice, Workout Videos, Health & Fitness | Bodyrock.tv. Hi BodyRockers, Today Freddy and I are starting to pack for our move and we are crazy busy.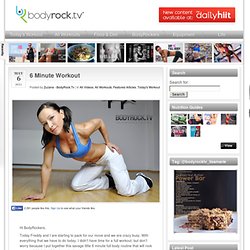 With everything that we have to do today, I didn't have time for a full workout, but don't worry because I put together this savage little 6 minute full body routine that will rock you out. I think that it is always better to do something than to skip your training completely, and this workout may come in a small package, but as you can see in the video, if you are pushing it at your max effort – full throttle – you won't have anything left after 6 minutes. This is a perfect solution if you find yourself really busy and pressed for time – and you can also extend the torture by doing this 2 times back to back. As I said tho, the real test of your effort is that by the end of the 6 minutes you should be tapped out. Work That Core! Quick Workout | QuickieFit - Quick Fitness Workouts. Workout Time: 12 Minutes Work That Core workout does just what is says, works your core!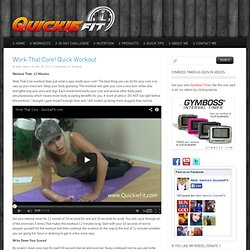 The best thing you can do for your core is to vary up your exercises. Keep your body guessing. This workout will give your core a nice burn while also strengthening your arms and legs.
---