Generative Algorithm
Basic Code Structures in CATIA « Expanded Terrain, experiments in new architecture and urbanism. The following is a graphic I made for the PROOF studio going step by step through a basic script that generates a series of panels on a building facade.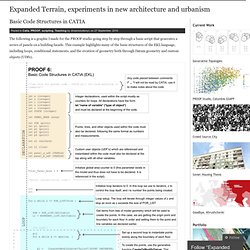 This example highlights many of the basic structures of the EKL language, including loops, conditional statements, and the creation of geometry both through Datum geometry and custom objects (UDFs). This example was specific to a workshop led by myself and Jesse Blankenship at Columbia, but should be useful to anyone exploring the use of scripting in CATIA. Download Olivier Pasquet python max msp grasshopper C C++ code. Code jtol is a max library for nested tree data structures, complex discrete pattern generation that can be applied to architectural design, music, dance; everything requiring constructed evolution in space and time.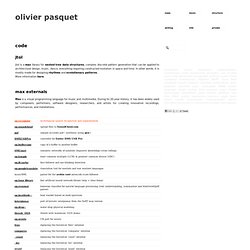 In other words, it is mostly made for designing rhythms and evolutionary patterns. More information here. Max is a visual programming language for music and multimedia. During its 20-year history, it has been widely used by composers, performers, software designers, researchers, and artists for creating innovative recordings, performances, and installations. Radiolarians. Crisis Mode Grasshopper Workshop : Sibyl Trigg. Noise. Selma%26Victor_Crust%26Mass. LaN / Live Architecture Network » Archive » LaN on FOOTPRINT RADIO – Boulder/Denver. LaN on BOULDER GREEN BUILDING GUILD's Footprint RadioBGBG's Footprint Radio – Episode 8 – Keeping up with design technology and the tools used /// Released 21 April 2011 Producer: Tasha Halevi Assistant Producer: Michelle Baker Sponsored by: Boulder County Business Report and Namaste Solar Design technology is changing rapidly, so how do we keep up?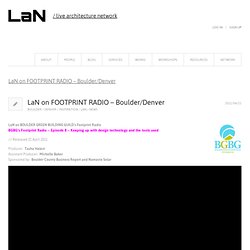 This month we explore the growing design opportunities in parametric modeling and the advances in fabrication technology, such as CNC mills and 3-D printing. Join us as we talk with Monika Wittig and Shane Salisbury, two of the three co-founders of Live Architecture Network, LaN. A hole in the earth 1. Matthijs la Roi - Portfolio. G-nome netlab project 2006. Hypostyle Hall: Too Many Columns | Studioplex. Twinc. JoelLetkemann.com. A Great Example « Generative Design.
Voronoi From 3d Curves. Recently I have been experimenting with generating 3D voronoi structures from points arrayed along curves.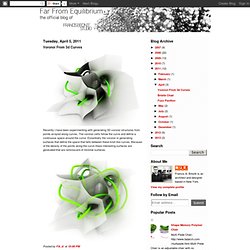 The voronoi cells follow the curve and define a continuous space around the curve. Essentially the voronoi is generating surfaces that define the space that falls between these knot like curves. Because of the density of the points along the curve these interesting surfaces are generated that are reminiscent of minimal surfaces.
Design Patterns
Lacuno-Architecture | Animal Architecture. February 17, 2010 As part of our ongoing efforts to promote radically ecological practices in architecture we are going through our old academic papers and re-editing them for online publication.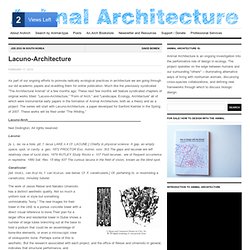 Much like the previously syndicated "The Architectural Animal" of a few months ago. These next few months will feature syndicated chapters of original works titled: "Lacuno-Architecture," "Form of Arch." and "Landscape, Ecology, Architecture" all of which were instrumental early papers in the formation of Animal Architecture, both as a theory and as a project. AfterAfterparty, Three (Revised) MINSOO LEE. Unlimited designing for the Asia Pacific website Kinetic sculpture in the park - Interactive installation Experimental designers Keehyun Ahn and Minsoo Lee of AnL Studio are busily creating a giant kinetic sculpture for Brisbane's South Bank Parklands – the festival hub for Unlimited.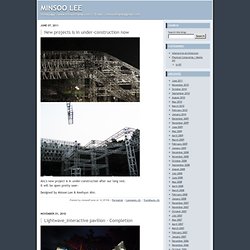 Guerrilla CG: Subdivision Surfaces. Maya Tutorials, Maya 3D Tutorials, Tutorials for Maya. Parametric Spaceframe. sCALAR. BIMtopia. Mesh to Single Nurbs Process | Independent Study. Posted by jordant511 on March 17, 2011 Converting a mesh to a single nurbs can be very helpful when trying to populate geometries across a single surface or to make manipulating that object much easier since Rhino is not well-known for its Mesh editing capabilities.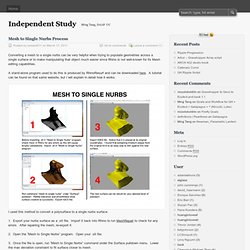 A stand-alone program used to do this is produced by RhinoResurf and can be downloaded here. ILYAS M. EKIZOGLU » Parametric Acoustic Pavilion. Post Blender Rhino tricks « Fabulously Fabricated. Many ways to Flow a Mesh – Some post-class review notes: The Flow/FlowAlongSrf Family imported OBJ mesh from Blender See below screenshot, refer to notes (click image to see bigger version):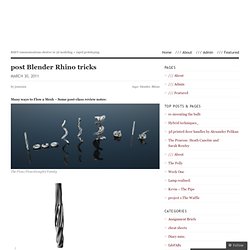 RAS. Terreform. URBANEERING BROOKLYN 2110City of the Future Credits: Mitchell Joachim, Maria Aiolova, Melanie Fessel, Dan O'Connor, Celina Yee, Alpna Gupta, Sishir Varghese, Aaron Lim, Greg Mulholland, Derek Ziemer, Thilani Rajarathna, John Nelson, Natalie DeLuca Our primary assertion for Brooklyn 2110 is that all necessities are provided inside its accessible physical borders.
We have designed an intensified version of Brooklyn that supplies all vital needs for its population. In this city, food, water, air, energy, waste, mobility, and shelter are radically restructured to support life in every form. Morse. Model T. Index : Nick Axel. SEED » Blog Archive » Avances: Investigación Algoritmos para la construcción con caña mediterranea (Arundo Donax) Software. Ezioblasetti. We are the hackers of abstraction.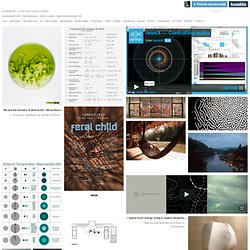 We produce new concepts, new perceptions, new sensations, hacked out of raw data. Whatever we hack, be it programming language, poetic language, math or music, curves or colorings, we are the abstracters of new worlds. Whether we come to represent ourselves as researchers or authors, artists or biologists, chemists or musicians, philosophers or programmers, each of these subjectivities is but a fragment of a class still becoming, bit by bit, aware of itself as such. — A Hacker Manifesto by McKenzie Wark I spend much energy trying to realize situations and occurrences physically before I give in to digital effects.
Pathtracer vopsop. Matt Ebb . cg / vfx. Dmpzoo. 증강현실을 일상에서 일반적으로 구현하는 개념은 모바일 기기의 디스플레이에서 실시간으로 투사되는 환경에 가상의 오브젝트를 합성하여 보여주는것이다. 사실 시나리오를 준비해서 실사와 가상의 오브젝트를 동적으로 합성하는것은 증강현실이라기 보다 영상편집 방식의 한 갈래일테지만 일반인의 수준에서 비교적 손쉽게 구현하는 이러한 동영상은 증강현실의 분위기와 비슷하다 이것이 매력적인것은 이미 BIG같은 몇몇 유명한 해외의 건축 프레젠테이션 동영상에서 효과적으로 건축의 개념을 전달하는 가능성을 보여주었기 때문이고 개인적으로는 상상력을, 판타지를 구현하는 메시지를 스스로 만들어내는 방법이 되기 때문이다. 그래서 이 개념을 이용해서 판타지를 실현하는, 혹은 개념적 메시지를 만드는 시나리오를 짜고 영상을 편집하는 과정을 한번 제대로 실험해 볼까 하는데, 혹시 관심이 비슷한 친구들이 있으면 같이 해볼까 한다. Method « Equilibrium y'all !!
SMART Form - realtime optimisation of architectural forms. Sarstis's Channel. YEW. The Emerging Project | Research Ground. A-DRL. PATTERNS & STRUCTURE. StahlFoundry. Megan magraw.
Kinetic Architecture
Cellular Automata. Optimized Path Systems. Magnetic Fields. Particles. Vector Deformation. Blend Morphologies. Morphing. MinimalSurface. PR&vD. **SOFTlab | LAB** Main : su11 architecture+design. Viascript :: 20100805_현재로서는… Computational Semiotics. 국내 최초 미디어아트 채널 :: 앨리스온 :: 알고리즘 아트 : 규칙으로 생성된 예술. 아름다울 수 있을까? _column. DoubleNegatives Architecture. Dna: dust eye / dust architecture - Marco Mancuso. 국내 최초 미디어아트 채널 :: 앨리스온 :: YCAMPost#03 Corpora in Si(gh)te_world report. Jenny Sabin | Research & Experimental Design. Voronoi Shattering (Part I) – Jose's sketchbook. :: Haru Map :: Graham Wakefield. Welcome to Smart Geometry. Tribal design. Alexander Pincus - Architecture, Design & Everything Else - Kinematic Curvature. Sanghee Kim. Tafoni. Plastic Network | Database for Algorithms in Nature.
---