Research, Education, and Trends
Twitter Revealed Epidemic Two Weeks Before Health Officials [STUDY] Health providers have suspected for some time that social media might be an early indicator of an epidemic.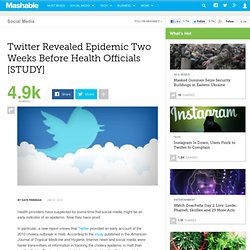 Now they have proof. In particular, a new report shows that Twitter provided an early account of the 2010 cholera outbreak in Haiti. According to the study published in the American Journal of Tropical Medicine and Hygiene, Internet news and social media were faster transmitters of information in tracking the cholera epidemic in Haiti than health officials. 16% of Cellphones Have Poop on Them. Worried your cellphone may fall into the 16% with poop on it?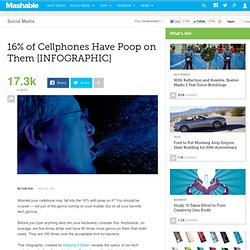 You should be scared — not just of the germs lurking on your mobile, but on all your favorite tech gizmos. Before you type anything else into your keyboard, consider this: Keyboards, on average, are five times dirtier and have 60 times more germs on them than toilet seats. They are 150 times over the acceptable limit for bacteria. Visible Proofs: Forensic Views of the Body: Home Page. Flu Trends.
HIV.
---