Alan Moore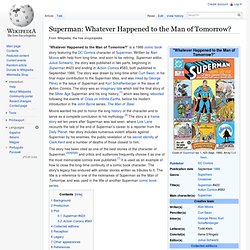 Moore wanted his plot to honor the long history of the character and to serve as a complete conclusion to his mythology.[2] The story is a frame story set ten years after Superman was last seen, where Lois Lane recounts the tale of the end of Superman's career to a reporter from the Daily Planet. Her story includes numerous violent attacks against Superman by his enemies, the public revelation of his secret identity of Clark Kent and a number of deaths of those closest to him. The story has been cited as one of the best stories of the character of Superman,[3][4][5][6] and critics and audiences frequently choose it as one of the most memorable comics ever published.[7] It is used as an example of how to close the long-time continuity of a comic book character.
Superman: Whatever Happened to the Man of Tomorrow?
Marvelman, also known as Miracleman for trademark reasons in his American reprints and story continuation, is a fictional comic book superhero created in 1954 by writer-artist Mick Anglo for publisher L. Miller & Son. Originally a United Kingdom home-grown substitute for the American character Captain Marvel, the series ran until 1963. He was revived in 1982 in a dark, post-modern deconstructionist series by writer Alan Moore, with later contributions by Neil Gaiman.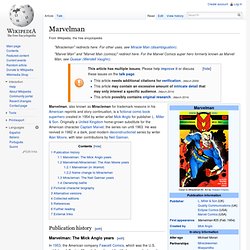 Marvelman
The story depicts a future history of the United Kingdom in the 1990s preceded by a nuclear war in the 1980s, which has left much of the world destroyed, though most of the damage to the country is indirect, via floods and crop failures.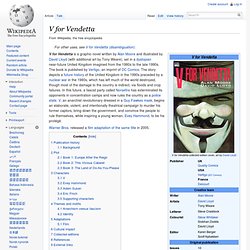 Watchmen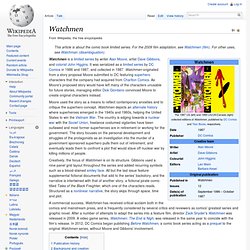 Moore used the story as a means to reflect contemporary anxieties and to critique the superhero concept.